Iowa Newspaper Reveals Obama Refused To Go On Record During Endorsement Interview
Newspaper Reveals Obama Refused To Go On Record During Endorsement Interview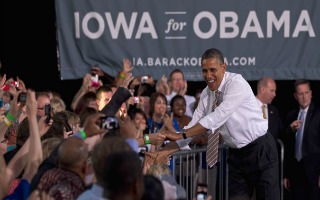 "The Des Moines Register's publisher and I spoke with President Barack Obama this morning — but we can't tell you what he said," reads the opening sentence in an editorial in the Des Moines Register. The Register, a popular newspaper in the all-important battleground state of Iowa, published an editorial on Tuesday night that revealed that President Obama had a wide-ranging and informative conversation with them ahead of their endorsement. The editors said the conversation they had would probably have aided Obama's effort to secure his reelection, but he refused to go on record.

The Register recently published audio of the interview the editorial board conducted with Mitt Romney as he sought their endorsement. The Iowa paper said they had prepared to do the same for the president, but Obama refused to go on record and they could not publish the audio of that conversation.
The conference call lasted nearly 30 minutes and was an incredibly informative exchange of questions, answers and an insightful glimpse into the president's vision for a second term. He made a genuine and passionate case for our endorsement and for reelection.

Just two weeks before Election Day, the discussion, I believe, would have been valuable to all voters, but especially those in Iowa and around the country who have yet to decide between the incumbent Democrat and his Republican opponent.

Unfortunately, what we discussed was off-the-record. It was a condition, we were told, set by the White House.
The editorial board has made it clear to the White House that President Obama should have gone on the record with them during their conversation.
"Our expectation is that the answer to one of the most important questions the Register ever can ask a politician –- "Why should you be our president?" –- deserves to be shared with voters," the Register's editorial concludes. "It's unfortunate that did not happen today."
The Register will reveal their endorsement Saturday night at 7 p.m. CST
UPDATE: Less than one day after the Des Moines Register admonished the president for not going on record during his interview with their editorial board, the White House has released a transcript of the entire interview. Read the full interview here via the Des Moines Register.
Read the full editorial via The Des Monies Register
> >Follow Noah Rothman (@Noah_C_Rothman) on Twitter
Have a tip we should know? tips@mediaite.com