Eric Bolling Displays His Phone Number Live On Fox News, Tells President Obama To Call Him
Eric Bolling Displays His Phone Number Live On Fox News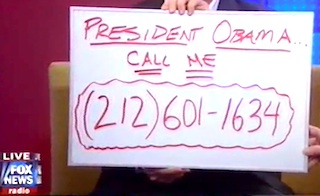 Eric Bolling stopped by Fox and Friends Thursday morning and made a direct plea to President Obama to give him a call to discuss his energy policy.
"Here it is, President Obama," Bolling said. "Last week I had offered you, I'll come down to DC, I'll sit down with Steven Chu. Here is the answer, this will get gasoline prices down, I guarantee it. Gasoline prices come down a dollar with this, but all you have to do — hold on, one second, is reach out and touch me. Here it is. Here is my phone number. There it is. Only President Obama call, though. I don't want anyone else."
Bolling held up a white board displaying his cell phone number.
The other Fox and Friends were stunned by Bolling giving his number out on the air. "Is that your real phone number?!" co-host Steve Doocy exclaimed.
"He does make personal phone calls!" Gretchen Carlson interjected.
"I'm sure no one else is going to call," joked Brian Kilmeade.
"I hope he calls, I'm not kidding," Bolling said. "That's my phone number. Call me."
Earlier in the program, Bolling criticized the President for his approach to energy production.
"President Obama has to make fun of everyone that comes out and says they can lower gas prices because it is his achilles. I mean, there [are] jobs, which may or may not be getting better, but this gas price will take down the presidency. There is no way he gets elected in November with a $3.50 or $4.50-gallon of gas."
"What I don't understand is, why can't you work on drilling more and bringing gas prices down potentially and alternative source — why can't you do both at the same time?" Carlson asked.
"Well, you can, but you can't do it if you're the government that wants to dictate everything that we do," Bolling observed. "If you're the government that wants to say, we'll let you know what type of fuel you're going to burn in your car in 2015. By the way, he said every government vehicle is going to burn an alternate fuel-fired engine by 2015. That is absolutely ridiculous. You can't sell a Volt, I don't know why the government's going to want to drive around in Volts."
Shortly after his appearance, Bolling tweeted that he was getting "hundreds" of calls, but, "oddly, none from Obama (yet)." Fox & Friends averaged just over 1 million viewers on Wednesday, according to Nielsen data.
Watch Bolling ask Obama to call him below via Fox News:

Have a tip we should know? tips@mediaite.com