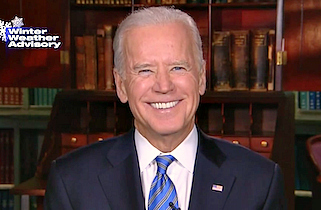 It's officially time for Joe Biden to jump into the race for the 2016 Democratic nomination if today's Quinnipiac poll is any indication.
FLORIDA: Biden 45 – Trump 42
OHIO: Biden 48 – Trump 38
PENNSYLVANIA: Biden 48 – Trump 40
The numbers are eye-popping yet somehow not really surprising upon witnessing the implosion of the most dishonest, utterly phony, untalented major candidate in modern history in the form of Hillary Clinton. How bad are the results for the former Secretary of State? Her untrustworthy numbers are now officially at a 2:1 ratio in Florida: 64 percent don't trust her while only 32 percent do. Those numbers are similar in Ohio (60 percent untrustworthy) and Pennsylvania (63 percent untrustworthy) as well, while Biden's numbers are almost the exact opposite (59/60 percent trustworthy, respectively).
Said poll also shows Biden doing better against Republican competition in key states: As noted above, the Vice President leads GOP frontrunner Donald Trump by 10 points in Ohio (doubling Clinton's lead). In Pennsylvania, Biden beats Trump by 8 points, while Clinton is only up 5…and this is before he's even announced yet.
A few more interesting tidbits:
John Kasich tops all Republican contenders–including Trump–in Ohio (if he doesn't get the nomination, he has to be top choice for VP given that factor).
Marco Rubio leads Hillary by seven points in Pennsylvania and Biden by only three.
Donald Trump leads all Republicans in Florida with 21 percent, beating hometown favorites Jeb Bush (17 percent) and Marco Rubio (11 percent). Two months ago, Trump had just 3 percent of the GOP vote.
And in Florida:
– Bush tops Clinton 49 – 38 percent and Rubio leads 51 – 39 percent while Trump gets 43 percent to Clinton's 41 percent.
– Bush leads Biden 51 – 38 percent, with Rubio up 48 – 42 percent. Biden gets 45 percent to Trump's 42 percent.
– Sanders trails Bush 54 – 35 percent and loses 52 – 36 percent to Rubio and 45 – 41 percent to Trump.
Former RNC Chariman Michael Steele stated on MSNBC this week that we're in for the most entertaining period of political theatre we'll ever see over the next few months. He also declared the eventual nominees will be Trump and Bernie. He's certainly correct on the first prediction, time will tell on the second…but could you even imagine what that general campaign season will look and sound like?
And if not Bernie, Biden appears to be able to jump in this "late" without missing a beat in the states that count. That's how soft Hillary's support is right now as she bumbles through another horrific week. And if not Biden, perhaps this guy could be the Democrats answer to Trump as noted in this space earlier this week.
Joe Biden, reluctant warrior?
He's run twice before. And you know what they say about third times and charms.
>>Follow Joe Concha on Twitter @JoeConchaTV
Have a tip we should know? tips@mediaite.com