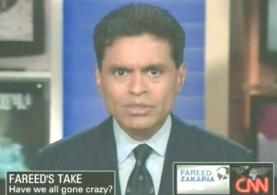 In a response, of sorts, to James Carville wanting to hit him with a "football bat," Fareed Zakaria, the CNN host doubled down on his initial comments criticizing Pres. Barack Obama's reaction (for being too strong) to the BP oil disaster.
The media, he thinks, has gone crazy.
"I didn't have that much of value to add. But watching the cover of it recently I think I have something to say," he said Sunday on his GPS show. And then:
Have we all gone crazy? I don't mean you, I mean us, the media. In dealing with the serious problem involving technical breakdown, engineering malfunctions, environmental fallout, regulatory mishaps, the media has decided to hone in on one central issue above all others: presidential emotion.
He followed this statement up by playing a HuffPost video compilation of anchors and reporters talking about the "emotion" of Pres. Obama. Emotion that Zakaria feels is sorely unwarranted. "What exactly is the point of all this?" he asked. "What purpose would be served by having the president scream or cry or whatever it is he's supposed to do to show emotion? Would it plug the hole?"
The entire episode, says Zakaria serves to "trivialize the political discussion" and leads to "lots of pointless meetings and press conferences," among other useless things that, you know, may help solve the problem.
There seems to be a major disconnect between what Zakaria thinks Pres. Obama is doing and what he looks like he's doing. Maybe, just maybe, it looks like Pres. Obama is taking the spill more seriously because he actually is. Anyway, here's Zakaria's monologue aimed at the "crazy" media:

—–
» Follow Steve Krakauer on Twitter
Have a tip we should know? tips@mediaite.com