Flavor Flav Explains The Difference Between Rap And Hip-Hop To Fox Business Anchors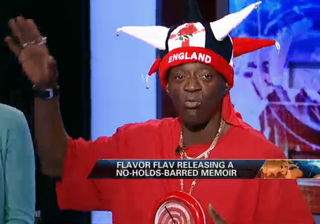 Happy Memorial Day Weekend! While most of you may be taking it easy this weekend, true entrepreneurs never stop working, and this week, one such business empresario took his "why not?" motto and his gigantic clock necklaces straight to Fox Business: Public Enemy icon Flavor Flav. Watch as the former Surreal Life star attempts to explain hip-hop, "hype men," and life after crack addiction to a pair of extremely amused (and surprisingly well-versed!) Fox Business market-watchers.
The interview began on the right foot– a question about the watches– which launched Flav into an old anecdote about playing The Dozens and being jokingly made to wear a bathroom watch on his neck. "When we saw ourselves in the newspaper the other day we said, 'wow, clocks look dope!'" He then explained the use of a hype man in hip-hop– they're necessary for "when you want to put your hands in the air like you just don't care," and lamented the fact that rap, and not hip-hop, was prevalent in the 21st century. "Not too much crowd participation in records these days." "Well," the anchor replied, "it went from being party rap– 'here are my chains and my Adidas– to gangsta rap with NWA." "The style of living in the streets has changed," Flav replied.
Flav then gave some inspirational words on escaping poverty and getting off of drugs: "There's a lot of things you may love but they aren't good for your life." And, of course, reminded the audience of a multimedia business platform that now includes music, books, and an array of restaurants, including Flavor Flav's House of Flavor– proving that he could speak the lingo of the network, money, as well.
The segment via Fox Business below:

Have a tip we should know? [email protected]