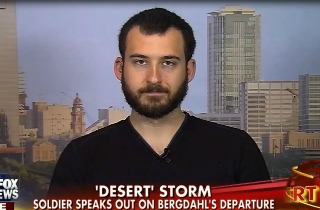 In an appearance on Fox & Friends on Wednesday, retired Army Spc. Josh Fuller, a soldier who served with Sgt. Bowe Bergdahl since 2008, said that the military informed him and other soldiers that the "narrative" they should maintain is that Bergdahl was captured by the Taliban rather than that he intentionally left his base. When asked if he believed he was told not to "tell the truth" about Bergdahl by military authorities, Fuller said that he did.

"The sentiment that everybody knew was that he walked off the base in the middle of the night, left all his gear there, and went – just walked off the post," Fuller said. "So, we had all known that it was — that he had deserted his post, and there was never anything about him getting captured or POW until a little while later whenever it came down from the chain of command that we needed to keep quiet and not say anything."
"We're going with the narrative that he was captured," Fuller said of the military's position on Bergdahl's alleged desertion.
"So, they basically told you not to tell the truth," Fox host Brian Kilmeade said.
"Yes, sir," Fuller replied.
Fuller concluded by corroborating the claims of Bergdahl's former team leader, Sgt. Evan Buetow, who told CNN on Tuesday that the Taliban's attacks became more directed after Bergdahl was captured.
"The ambushes we use, the certain tactics we use, the Taliban was picking up on those things," Fuller said. "You could tell it was from somebody on the inside that had that info."
Watch the clip below via Fox News:
[Image via screengrab]
— —
>> Follow Noah Rothman (@NoahCRothman) on Twitter
Have a tip we should know? tips@mediaite.com