Former 'Congressman With Guts' Alan Grayson Hits Public Bus With His Mercedes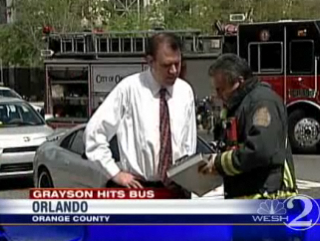 Former Congressman Alan Grayson made quite the splash as a freshman liberal firebrand before losing his seat in the Republican turnover of 2010. He is running for Congress again this year in his Florida district, but on his way to an "upscale fundraising event," reports local NBC affiliate WESH 2, he managed to somehow hit a Lynx bus— the local public transport system– with his Mercedes.
RELATED: Alan Grayson Announces Run For Congress: 'Washington Is Now Divided Between The Meanies And The Weenies'
Could the optics here be any worse?
Former U.S. Rep. Alan Grayson crashed into a Lynx bus in downtown Orlando about noon Saturday. Grayson was traveling to an upscale fundraising event for his Congressional campaign. Investigators said Grayson was driving a Mercedes, when he ran a red light and hit the bus. Police and a campaign representative said Grayson and his passenger were not hurt. Two people aboard the bus claimed they suffered minor injuries and were taken to a hospital. […]

A news release for Grayson's campaign event stated it was scheduled from noon until 1:30 p.m. at the penthouse of some local Democrats in The Vue, a high-rise condominium near Lake Eola. Featured guests included noted environmentalist Robert F. Kennedy, Jr., and actress Cheryl Hines. The suggested contribution for those attending was $1,000.
Cue Republican attack ad accusing Grayson of literally running over the poor with his Mercedes on the way to meet with Robert F. Kennedy, Jr.
The report of the (thankfully, mostly injury-free) incident via WESH 2 below:
[h/t Instapundit]
Have a tip we should know? tips@mediaite.com