Former WH Comm Director: War With Fox News Was 'Simple Decision,' Their 'Alternative Universe' Now 'Crumbling'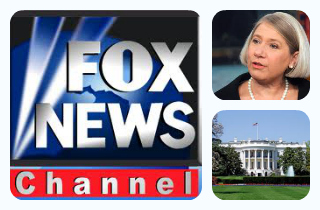 Remember Anita Dunn, the former White House Communications Director who famously went to war with Fox News back in 2009?
Wednesday afternoon, she was back in action, talking with HuffPost Live about why the decision to battle with the most-watched cable news network was a "simple" one because of Fox's persistently negative coverage of President Obama, adding that she believes the network's "alternative reality" is "crumbling."
Readers may recall back in 2009 that Dunn generated controversy when she told TIME magazine that Fox is "opinion journalism masquerading as news." The comment fueled an already-tense battle between the White House and the popular cable network, ultimately leading to a meeting between a Fox exec Michael Clemente and former White House Press Sec. Robert Gibbs.
– RELATED: White House Has Beef with Fox News, But Loves One FNC Reporter
Years after leaving her post as communications director, the feud still rages on — albeit in a less open fashion. Dunn told HuffPost Live host Alicia Menendez that the White House's war with Fox News was "a simple decision, given the fact that Fox News had really been the not-so-loyal opposition since the President had taken office." She reiterated her belief that Fox's main strategy is to blur the lines between hard news and conservative opinion content.
"What you're seeing now with Fox is that that alternative Fox universe that they created for four years is crumbling," Dunn suggested, after being asked about Fox's recent break with conservative pundits like Dick Morris and Sarah Palin.
"[Fox News president] Roger Ailes, who is nothing if not an excellent television person and very smart executive, is realizing that the creationism of the past has to end," Dunn continued, "And so you see the Fox evolution."
"The changes that Fox is making now are kind of a tacit admission that they had gone way too far to one side and were being seen by people not as a news network, but really as a political organization," she explained. "There are not a lot of news networks that have on their payrolls — as Fox did two years ago — the bulk of the people who are planning to run for president in a political party. Think about that," she concluded.
Watch below, via HuffPost Live:
— —
>> Follow Andrew Kirell (@AndrewKirell) on Twitter
Have a tip we should know? tips@mediaite.com