Fox Boston: Racist Postal Video Lady Has History Of Drunk Driving, Threatening Officers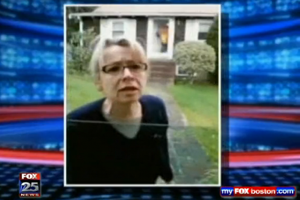 A year after telling a black postal worker that he "killed Martin Luther King, Jr." for refusing to accept the return of a letter, Hingham, MA's Erica Winchester is now just reaping the dubious rewards of becoming a widespread internet disgrace. After possibly being identified by websites like 4chan and Reddit, her identity was confirmed on Fox Boston, who visited unsurprised neighbors and took a peek at her police record.
According to reporter Adam Pellerin's report, police took up the case a month after the video was filmed, though charges were eventually dropped because the postal worker at the end of the tirade– who believes he was fired for the incident, but reports say was fired for job performance– "felt sorry for her," considering her insane, and refused to testify against her. Officers in the small town of Hingham seemed perplexed at which Winchester's video is just now becoming an internet sensation. Meanwhile, her neighbors were completely unsurprised by the tape, noting that the behavior was expected from her– "she blows her gasket."
The report also uncovered some of Winchester's suspicious past, including court documents which show she has been arrested for drunk driving (during which she attacked a paramedic trying to treat her on-scene) and disorderly conduct (threatening a police officer with cutting off his genitals). Needless to say, this will probably not do much to endear her with the faceless internet masses that brought her initial transgressions to light.
The Fox Boston report below:

Have a tip we should know? tips@mediaite.com