Fox Business' Eric Bolling Apologizes For 'Hoods In The Hizzouse' Remarks About President Obama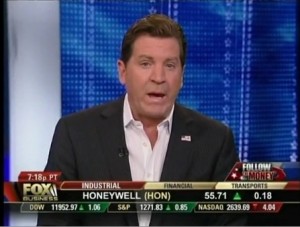 Fox Business' Eric Bolling drew criticism for remarks he made on Friday's edition of Follow The Money, accusing President Obama of hosting "hoodlums" in the "hizzouse," and later, referring to The White House as"the big crib."
Following publication of my column denouncing the segment, Bolling and I had an intense, yet civil, debate on Twitter Sunday night, and tonight, he issued a brief apology for the remarks.


"One editorial note. On Friday, we did a story about the President meeting with the President of Gabon. We got a little bit fast and loose with the language, and we know it's been interpreted as being disrespectful, and for that, I'm sorry. We did go a bit too far."
Bolling's apology was brief, but while some may feel the urge to extract a pound of flesh, I think the chat that Bolling and I had on Twitter last night indicates that he got the message, and that he's at least earned the right to go and sin no more. If you find this apology unsatisfactory, compare it with Bolling's reaction to his "chugging forties" remark, and you'll see he has made honest progress in considering the feelings of others.
Furthermore, as Bolling took exception to my headline, I am prepared to allow that I played fast and loose with the word "tool," it was interpreted as disrespectful, and for that, I'm sorry:
ericbolling
Is ABC racist? Or USA Today? or just me because I work for Fox?…http://fb.me/H3J4Kn7D
12 hours ago Favorite Retweet Reply

tommyxtopher
@ericbolling Maybe this will clear it up for you http://bit.ly/l5FRqv I don't think ABC or USA Today did the same, did they?
11 hours ago Favorite Reply Delete

ericbolling
@tommyxtopher I expect that treatment from the liberal blogs.. not you guys. M has always been fair, objective. nasty name was cheap shot!
11 hours ago Favorite Retweet Reply

tommyxtopher
@ericbolling Well, I am the "Hizzouse" liberal, so don't blame the whole site. Besides, that headline was funny, you gotta admit that.
11 hours ago Favorite Reply Delete

ericbolling
@tommyxtopher just doing your job, I guess…
11 hours ago Favorite Retweet Reply

tommyxtopher
@ericbolling So, if "no intent," what other Prizzezidentz have you employed hip-hop parlance on? I'm prepared to admit I'm wrong.
11 hours ago Favorite Reply Delete

tommyxtopher
@ericbolling Wait, and how was I unfair?
11 hours ago Favorite Reply Delete

ericbolling
@tommyxtopher I do opinion at 10! btw-I may be a "liberalist" but DEF not a racist. If you took the time to know me/the show, you'd get that
11 hours ago Favorite Retweet Reply

tommyxtopher
@ericbolling Never said you were a racist, but would appreciate an answer to two fair questions.
11 hours ago Favorite Reply Delete

ericbolling
@tommyxtopher Stewart/Maher use these terms all the time, but because they're libs , they're funny… I use the same words and I'm a "tool"
11 hours ago Favorite Retweet Reply

tommyxtopher
@ericbolling So, are you saying you were referencing his race, but you think it's okay because Stewart/Maher do, also?
11 hours ago Favorite Reply Delete

ericbolling
@tommyxtopher nope
11 hours ago Favorite Retweet Reply

tommyxtopher
@ericbolling I would agree with you on Maher, almost included it in my piece. His "gangsta President" remark was offensive, but he thinks
11 hours ago Favorite Reply Delete

tommyxtopher
@ericbolling he gets apass b/c he's a comic, and he meant it "positively." Stewart, tho, uses it to satirize stereotypes, not promote them
11 hours ago Favorite Reply Delete

tommyxtopher
@ericbolling So, if not, when have you used hip-hop parlance on a white politician? Was Reagan hosting a "hood" in the "crib?"
11 hours ago Favorite Reply Delete

ericbolling
@tommyxtopher TC you may not like my delivery/but theres NO hate. gotta go watch Piers stumble thru Amer Got Talent, proof America is great
11 hours ago Favorite Retweet Reply

tommyxtopher
@ericbolling Did you, or anyone else, ask whether voters in 2004 would rather have a "forty" with Bush or Kerry?
11 hours ago Favorite Reply Delete

ericbolling
@tommyxtopher no but I might have…
11 hours ago Favorite Retweet Reply

tommyxtopher
@ericbolling Well, when you're done, my questions stand.
11 hours ago Favorite Reply Delete

tommyxtopher
@ericbolling I'm sure you're a fine person. Maybe fine enough to consider that what you're saying legitimately offends people.
11 hours ago Favorite Reply Delete

ericbolling
@tommyxtopher good chatting with you… keep an open mind, man.
11 hours ago Favorite Retweet Reply

tommyxtopher
@ericbolling You too. And FTR, "tool" isn't necessarily an insult. Tools are an essential part of human progress.
11 hours ago Favorite Reply Delete

ericbolling
@tommyxtopher now thats funny!
11 hours ago Favorite Retweet Reply
Have a tip we should know? tips@mediaite.com