Fox & Friends Asks Carly Fiorina About 'Hormones,' She Says She's Going to Announce Soon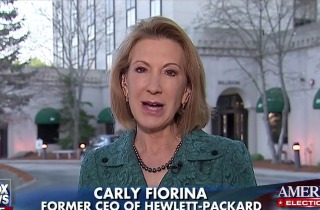 Former Hewlett-Packard CEO Carly Fiorina is likely running for president and she will make an announcement in coming weeks, she confirmed Saturday morning to Fox & Friends. The comfy-couch-ridden hosts asked the one-time Republican U.S. Senate candidate about the now-infamous claims of a CEO that a woman simply cannot be president.
The presidency is best "left to a man, a good, strong, honorable man," Texas marketing executive Cheryl Rios asserted last week to much media coverage. "The hormones we have make us not qualified to be president according to this woman?" Fox host Anna Kooiman asked Fiorina this morning.
"She's obviously entitled to her opinion, but I think American history is littered with examples of men whose judgment was clouded by their hormones including in the Oval Office," Fiorina responded, with a thinly-veiled jab at President Bill Clinton's White House infidelity. "If we want to talk about hormones, I think men's hormones sometimes get the better of them."
Asked to address Hillary Clinton's claims that women are naturally better leaders, Fiorina agreed, but took the opportunity to swipe at her potential opponent.
"Good leadership requires transparency and candor, which Hillary Clinton has not displayed," the California former exec said. "I think it requires collaboration, which I don't think she has particularly displayed. I think it also requires a track record of accomplishment — honestly she doesn't have much."
"I will probably be running for president in a few short weeks," she quickly revealed, "and I also think that gender shouldn't be the basis upon which we make that decision. That's why if Hillary Clinton faces me on a general debate stage she won't be able to talk about being the first woman president. She won't be able to talk about the war on women. The only thing she'll be able to talk about is her track record, her accomplishments, or lack thereof."
Fiorina later added that she will probably make an announcement in late April or early May.
Watch below, via Fox:
— —
Have a tip we should know? tips@mediaite.com