Fox & Friends Rips Obama On Sequester: Is It Just 'Blackmail' To Get More Tax Hikes?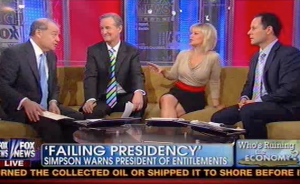 Fox & Friends isn't happy with President Obama's handling of the automatic spending cuts known at the sequester. Looking at a possible ulterior motive, Stuart Varney joined the crew on Wednesday, pondering whether this is all just "blackmail."
Approaching the March 1 deadline, "the president now says his idea is no longer a good idea," Steve Doocy remarked, pointing to Obama's comments on Tuesday wherein he highlighted a stark "choice" between the potentially disastrous effects of the cuts versus reaching a deal.
"But you gave us that choice," Brian Kilmeade countered. "Did he ever intend for this to work, or is he just using it as blackmail to get Americans to pay higher taxes?"
That's where Varney chimed in, expressing unsurprising outrage over the terrible effects Obama described. "He will inflict maximum pain on us, the taxpayer and the economy, if we go through with just a 2 percent cut," Varney asserted.
So "why doesn't he do something about it?" Gretchen Carlson asked. Why won't he go out and get a deal done? Because he's "interested in beating up on his Republican opponents," Varney replied, and he wants to blame them for any potential recession. Basically: It's all a blame game.
"Are you trying to tell me we can't cut 2 percent out of a $3.6 trillion economy without facing utter disaster?" he asked. "That is nonsense."
The American public is confused, Carlson chimed in, because it's supposed to be a "warning" to Democrats and Republicans. Varney stuck to his message: Obama wants to raise taxes while ignoring spending and debt concerns.
Take a look, via Fox News:

Have a tip we should know? tips@mediaite.com