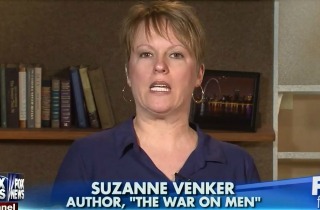 Facebook COO and author Sheryl Sandberg, in conjunction with a slate of celebrities, has launched a campaign to ban the use of the word "bossy," which she claims stigmatizes young girls. On Wednesday, founder of the group Women for Men and author of The War on Men, Suzanne Venker, appeared on Fox & Friends where she said this campaign masks a broader agenda and is part of a series of attacks on men.

"Is this just feminist propaganda masked as empowerment?" host Elisabeth Hasselbeck asked.
"'Bossy' is a character flaw, not a political movement," Venker replied. "'Bossy' is not something that is specific to girls. Boys can be bossy, too, and they are corrected when they are."
RELATED: Fox's Greg Gutfeld: 'Ban Bossy' PSA Proved Women Actually Are 'Bossy'
"I think associating bossiness with leadership in any way is a mistake, number one, because there is a lot of different ways to be a leader," she continued.
Venker went on to say that Sandberg's agenda is broader than one campaign to ban a word. "She wants 50 percent of men to run the home and 50 percent of women to run the countries and the companies. That's the bigger mission," Venker asserted.
"There are sound reasons why there are not more women at the top, and this is just a silly way to focus on something that is not a real issue," she continued.
Venker added that her experience as a teacher taught her that "it is boys who desperately need our attention, not girls."
Venker is the niece of conservative activist Phyllis Schlafly, and has previously written about the so-called "war on men" for Fox's website.
Watch the clip below via Fox News Channel:
[Photo via screen grab ]
— —
> >Follow Noah Rothman (@NoahCRothman) on Twitter
Have a tip we should know? tips@mediaite.com