Fox Guest: Hillary Email Controversy an 'Inside Job' Ordered by Obama, Valerie Jarrett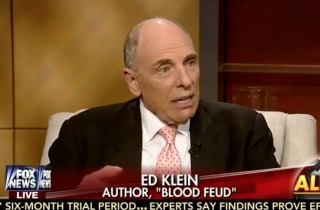 Author and purported Clinton insider Ed Klein has a theory about how the Hillary Clinton email controversy came about: it was sparked by President Barack Obama and ordered by senior adviser Valerie Jarrett.
Appearing on Fox and Friends Wednesday morning, Klein said he's not the only one who buys into that explanation, and that Bill Clinton also believes it. According to Klein's sources, the White House is leaking information to their "friends in the mainstream media" about Hillary's actions as Secretary of State. Klein also said his sources from within the White House told him that Hillary is under six investigations that were sparked by the Obama Administration.
Klein said his sources at the State Department say they are seeing "tons of documents being wheeled through the corridors from Clinton's old offices, and they're going through these looking for problems on her expense account, on her dealings with foreign leaders — all of this, I'm told, is prompted by Valerie Jarrett and the president, who do not want to see Hillary Clinton president of the United States."
Klein went on to say the Obamas feel the Clintons are "too centrist" and believe she would not continue the legacy of the "further to the left" Obama presidency and would "cooperate" with the Republicans like her husband did in the 1990s.
He then asserted Obama was not telling the truth when he said he was not aware of Clinton's exclusive use of a private email address until the New York Times report last week.
Klein is the author of Blood Feud: The Clintons vs. the Obamas, and has given many anonymous insider accounts of what happens behind the scenes with the Clintons.
Watch the video below, via Fox News:
[Image via screengrab]
— —
>>Follow Andrew Desiderio (@forza_desiderio) on Twitter
Have a tip we should know? tips@mediaite.com