Fox Guests Brawl Over Obamacare and Little Sisters: 'No One Is Imposing Their Religious Beliefs on Anybody!'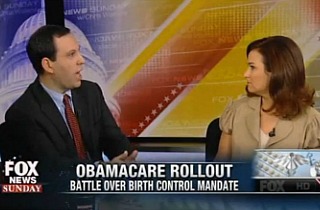 The constitutionality of provisions of the Affordable Care Act mandating religious employers provide their employees with contraceptive coverage are going to be decided by the Supreme Court this year. A panel of guests on Fox News Sunday debated the merits of the case, brought by the Little Sisters of the Poor, a Baltimore-based order of nuns, and whether the group's objection to even signing a form opting out of that coverage requirement is valid.

Mark Rienzi, Senior Counsel at the Becket Fund for Religious Liberty and attorney for the Little Sister, told Chris Wallace that the government is claiming that the religious employers who brought the case can "opt-out" of those provisions but they would still be required to sign a form requesting that exemption. "If the form doesn't matter, the government shouldn't be fighting to make the Sisters sign it," Rienzi insisted.
NARAL Pro-Choice America President Elise Hogue countered that America's religious liberty protections also provide for those who do not want to be "violated by my beliefs when I impose them on you."
"No matter what the Little Sisters sign, their employees are actually not going to get contraception," Hogue said. "This law was intended to uphold religious liberty, and yet make sure that no one else was making my health care decisions based on their religious beliefs."
She said that an employer, for example, should not be allowed to block an employee from vaccinating their child and added that it is "beyond me" why Rienzi would not just advise his clients to sign the opt-out form.
Rienzi asked why the government does not waive the need to sign this form that some view as a violation of their religious liberty. "The government is charged with enforcing the law," Hogue continued. "We all hate signing forms – believe me."
The conversation verged into the merits of the Affordable Care Act when Hogue insisted that "polls actually show" that half of the opposition to the law comes from those who wanted it to go further. She added that the law provides "women with the health care they need to govern our own lives."
Wallace asked if it was "fair" for the Little Sisters to refuse to cover contraception even though most Catholics admit to having used some form of birth control. "No one is imposing their religious beliefs on anybody," Rienzi insisted.
Watch the segment below via Fox:
[Photo via screen grab ]
— —
> >Follow Noah Rothman (@NoahCRothman) on Twitter
Have a tip we should know? tips@mediaite.com