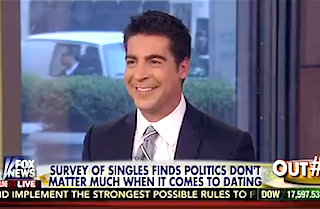 Could you date someone who doesn't share your political views? That's the question Fox News' Outnumbered attempted to answer at the end of Monday's show, leading to a shocking revelation from #OneLuckyGuy, Jesse Watters, better known as Bill O'Reilly's ambush correspondent.
While Jedediah Bila admitted that she has dated almost all liberals, Andrea Tantaros said a left-leaning bent is a deal breaker for her. She said that she always asks potential mates whether they voted for President Barack Obama to find out if he's "naive" and therefore "can't respect" him.
"The rule of thumb for guys is you can be a crazy tea party right-wing conservative, but if the girl is a Communist and she's hot, you're in," Watters said, making quote the generalization. "I mean, it doesn't matter, as long as she's hot."
This led to Watters' story about how his wife, who he believed was very "simpatico" with him politically, told him after 2012 that she had voted for President Obama. "And I was like, 'Oh my gosh! Are you kidding me?'" he said, before revealing that she had him going for two weeks before she admitted it was all a big joke. "She got me good."
But wait, didn't we discover in December of 2012 that Watters had donated $500 to the Obama campaign? Was that part of his wife's prank as well, or is O'Reilly's right-hand man really a closet Democrat?
Watch video below, via Fox News:
[h/t TPM]
[Photo via screengrab]
— —
>> Follow Matt Wilstein (@TheMattWilstein) on Twitter
Have a tip we should know? tips@mediaite.com