Fox News Panel Reacts To Obama's Inaugural Address: 'Call To Arms For A Liberal Agenda'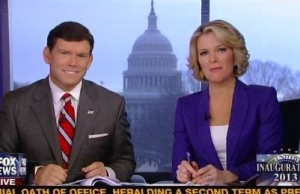 Following President Obama's inauguration ceremony, Fox News' panel of Megyn Kelly, Bret Baier, Chris Wallace, and Brit Hume reacted largely by pointing out the president's outward stating of left-leaning goals for a second term, calling the speech a "call to arms for the liberal agenda."
Hume began by noting that the president largely avoided the issues that determined the re-election campaign, and took special notice of how the president claimed "a recovery has begun" four years after first taking office. "What did he say in the speech today that said 'I have a plan or new ideas for creating a more robust economy?' Practically nothing," Hume added.
"If you were a supporter of Barack Obama — and particularly, a liberal supporter of Barack Obama — I think you were very pleased by this speech," Wallace added. "I thought it was a real call to arms for a liberal agenda."
Wallace said that Obama's "liberal agenda" included the notion that "we need to do it as a community," with "it" being the tackling of various economic and social issues like gun control, alternative energy, entitlement reform, women's issues, and gay marriage.
"I don't think he reached out to the other side at all," added Wallace. "And then he called on the public, not so much for supporting the country, but to support his agenda. … This is a president who meant what he said in the campaign, and he intends to keep those promises."
Co-anchor Baier then asked, "Do you think this is the message of a 'firewall president'? Someone who is protecting the progressive agenda; someone who is saying, you are not going to get past me any changes to unravel the liberal agenda of the past 50 years."
"That's exactly what it was," Hume agreed. "This is a defense when it comes to these programs which now, if you take them all together and add them up, are way past fifty percent of the federal government spending. Basically: don't mess with these."
A little bit later, Wallace interjected that he doesn't believe we've had a "liberal agenda" thus far, and Obama's speech made clear that he intends to "protect the liberal aspects of our governments and entitlements, not only that, but he's going to explain and expand it," citing his overtures to gay rights and climate change as examples.
Watch below, via Fox:
— —
>> Follow Andrew Kirell (@AndrewKirell) on Twitter
Have a tip we should know? tips@mediaite.com