Fox News Resurrects Karl Rove Smear That Hillary Clinton Suffered 'Brain Damage'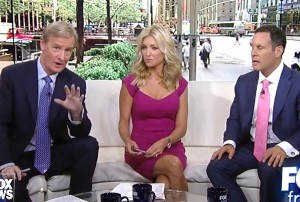 Long before anyone had any idea that Donald Trump would be the Republican presidential nominee, Republican hatchet man Karl Rove had his sights set on Hillary Clinton, pushing the idea that the former secretary of state had suffered "brain damage" during an accidental fall in late 2012. That bit of vicious and false concern-trolling was resurrected on Thursday morning's Fox and Friends, in an exchange that was flagged by pro-Clinton liberal watchdog group Media Matters:
AINSLEY EARHARDT (CO-HOST): You were right, he is a board-certified medicine specialist and TV personality, Dr. Drew.

BRIAN KILMEADE (CO-HOST): Dr. Drew, yeah.

STEVE DOOCY (CO-HOST): And what he said on the radio yesterday, which has been taken down, apparently —

EARHARDT: Of course.

DOOCY: — by the radio station, is that the fact that when we saw Hillary Clinton wearing those prism glasses, a sign of brain damage —

KILMEADE: Yeah.

DOOCY: — and other things, and he's worried about the care she's getting so far.

KILMEADE: And if you want to — or remember, when she was wearing those glasses, remember when she made those famous line to Senator Ron Johnson, "What difference at this point does it make," that's when she had those glasses on.
The problem here is that the Fox and Friends gang, who are building on the work of Sean Hannity to try and smear Hillary over bogus "health concerns," aren't just parroting the ill-informed mouth diarrhea of a political hack, they're parroting the ill-informed mouth diarrhea of a TV doctor. In the radio appearance that Steve Doocy cites, Dr. Drew Pinsky expressed concern about what he thinks is outdated medical care that Hillary is receiving, but he also flat-out says Hillary wore prism glasses after that 2012 fall because she suffered "brain damage":
Hillary wore the glasses to treat double vision she suffered as a result of the fall she took at Christmas time in 2012, and not for any sort of "brain damage."
This is an opinion piece. The views expressed in this article are those of just the author.