Fox Panel Battles Over Whether Americans Are Better Off After Four Years Of Obama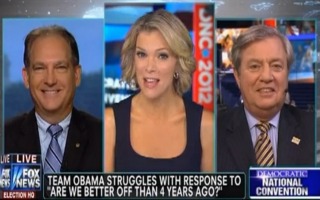 In a segment with Fox News Channel's Megyn Kelly, Chairman of the South Carolina Democratic party Dick Harpootlian and former deputy assistant to President George W. Bush, Brad Blakeman, debated the changing messaging from President Barack Obama's surrogates as to whether Americans are better off today than they were four years ago. The discussion became contentious as the pair argued whether Sen. John McCain, had he won in 2008, would have been able to answer that question in the affirmative.

Kelly asked Blakeman why, for example, Maryland's Democratic Gov. Martin O'Malley would tell CBS News on Sunday that Americans are not better off than they were in 2008, but would then tell CNN on Monday morning that they were better off.
"I think it's the silly season," said Harpootlian. "What all of them said was accurate, and that is that the country is better off now than it was four years ago." He went on to outline the situation that President Obama inherited and the progress that has been made since.
"It's like I was in a car wreck and I was hit by a drunk driver – we'll call the drunk driver the Republican party," Harpootlian analogized. "Both my legs are broken and the orthopedic surgeon that is treating me – Barack Obama – is making tremendous gains at getting me back on my feet, and the drunk driver is over there chiding him and making fun of him, saying 'he's not walking yet.'"
"The suggestion was that Governor O'Malley was 'Cory Bookered,'" said Kelly, referring to the about face that Newark Mayor Cory Booker made when he attacked the Obama campaign's messaging against Mitt Romney's experience with Bain Capital. Blakeman agreed, saying that O'Malley probably got a call from a campaign official telling him to "walk it back."
"70 percent of Americans, regardless of party affiliation, believe that not only is the country headed down the wrong track, but they're not better off than they were four years ago," said Blakeman.
"This is like turning around a super tanker," said Harpootlian to Blakeman. "It's not going to turn on a dime."
"It's time for you guys to abandon ship," Blakeman replied. "I'm going to use your line – you've run us into the ditch."
Harpootlian questioned how the Republicans would generate the revenues to fund the government, when Mitt Romney has his money in a "in Switzerland and the Caymans."
Kelly asked Blakeman if Sen. McCain would have been able to say that things are better off having inherited the same situation as President Obama. Blakeman said that he would, because McCain would not have governed from the philosophy that government expansion was the goal.
Harpootlian challenged Blakeman's facts, saying that Obama's record on job creation in the private sector is commendable. "Nonsense," Blakeman replied. "We're at 8.3 percent unemployment. 23 million people are out of work."
Watch the segment below via Fox News Channel:
> >Follow Noah Rothman (@Noah_C_Rothman) on Twitter
Have a tip we should know? [email protected]