Fox's Bob Beckel: 'If It Were Up To Me,' No New Mosques In U.S. Until We Verify They Aren't 'Terrorists' (UPDATED)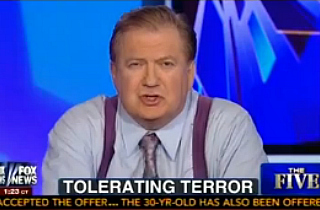 (SEE UPDATE AT BOTTOM OF POST) Yesterday afternoon on Fox's The Five, co-host Bob Beckel suggested that if it were up to him, there would be a temporary moratorium on new mosques built in the United States until we could verify who is or is not involved in terrorist activities.
Beckel's comments came in reaction to a story about an Islamic militant group called Boko Haram, which is suspected of having killed dozens of children at a school in Nigeria in a gruesome fashion this past weekend.
"These guys are murderers," Beckel asserted. "They're terrorists. And if this is what the prophet told you to do, then the prophet was wrong."
He then recalled how earlier this year he received a lot of criticism for suggesting the United States temporarily suspend student visas from Muslim countries in response to the Boston Marathon bombings, and added his own new suggestion:
"Now I've already gotten enough mail from you all, you don't like what I say about not letting your students come here. If it were up to me, I would not have another mosque built in this country until we got it worked out who was not a terrorist."
"Oh, here we go," co-host Kimberly Guilfoyle said, acknowledging the potential for controversy around this new suggestion for dealing with Muslims in the states.
Beckel then railed against American Muslim leaders who've been "cowardly" by not openly condemning the attacks for fear of "fatwa" retribution from abroad. "Well, fatwa this!" he said.
"Put her there," co-host Andrea Tantaros exclaimed, offering Beckel a high-five from across the table.
"Peaceful religion?" Beckel later asked incredulously. "These guys, from the time they're little kids, are taught to be terrorists."
Watch below, via Fox:
UPDATE: Bob Beckel clarified his remarks the next day. Watch below:

— —
>> Follow Andrew Kirell (@AndrewKirell) on Twitter
Have a tip we should know? tips@mediaite.com