Fox's Bolling: There Were 9/11 Cheers in NJ, 'Who Cares If It's a Thousand or a Handful?'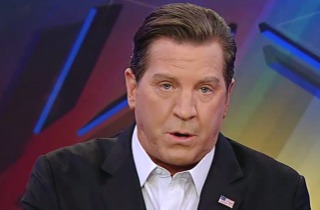 Fox News' Eric Bolling sort of defended Donald Trump tonight by saying he remembers news reports about Muslim cheering in New Jersey the day after 9/11, while dismissing the importance of how many it might have been.
After Greg Gutfeld again dismissed Trump's false claims, Bolling said, "I remember the next day and I remember the news reports and I remember specifically the news reports about Jersey City." He said there were people on rooftops who were "tipped off," and said there was video too, but couldn't remember "if it was Pakistan or Paterson."
He said the mosque the infamous "blind sheikh" was an imam at in New Jersey was cheering, and then Bolling asked, "Whether or not it was thousands, a few hundred, a handful, who cares?"
Gutfeld said, "Oh, I care! What if Bernie Sanders said there were thousands of pro-lifers cheering the Colorado shooting? Everybody at Fox would go 'Show me the proof.'"
Bolling insisted, "It doesn't really matter to me, because I know there were Muslims and Muslim groups who were happy that the World Trade Center came down and they were in the United States when that happened."
Gutfeld again said the number matters when Trump makes a specific claim of "thousands," while Dana Perino said Trump "puts his defenders in a position of sounding ridiculous."
Bolling shot back, "It's not ridiculous." He clarified that he's "not defending" Trump, he's just saying he remembers hearing about it too. He concluded, "No one knows for sure. Who cares if it's a thousand or a handful."
Bolling is not the first to try backing up Trump like this; just yesterday, Fox's Steve Doocy said he remembers cheering Muslims on 9/11 too. And Trump's own people have used excuses ranging from "he is never wrong" to "we didn't have camera phones back then."
Watch above, via Fox News.
[image via screengrab]
— —
Follow Josh Feldman on Twitter: @feldmaniac
Have a tip we should know? tips@mediaite.com
Josh Feldman - Senior Editor