Fox's Keith Ablow Tells Female Co-Hosts They Could Stand to 'Lose Five Pounds,' Shouting Ensues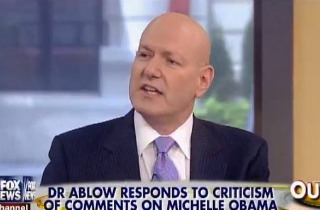 Fox News contributor Keith Ablow isn't done talking about First Lady Michelle Obama's weight. And he has some fitness pointers for his female colleagues, as well.
On Thursday, the psychiatrist guest-hosted Outnumbered and took a segment to "provide context" on his comments from last week, wherein he said Obama could stand to "drop a few" pounds.
"The context was to remind people of the draconian standards set by the first lady and her school lunch program such that the children are throwing their school lunches away," he said. "They're inedible. And what I was reacting to was the hypocrisy."
Ablow went on to surmise that Obama has "struggled with her own weight," based on photos he's seen of her.
Asked by co-host Harris Faulkner how he knew Obama had "struggled" with weight, Ablow said if Obama hadn't struggled, she has "chosen to be much heavier" at points in her life.
Ablow then said to all four women co-hosting the show that "each" of them, including himself, "could lose five pounds, probably."
His female co-hosts then tore into him, shouting and talking over him for basically talking out of his big ass.
"Dr. Ablow, I'll tell you what the bottom line is," said Sandra Smith. "Maybe in future appearances, you should think about what you're going to say before you say it. If you have nothing nice to say, don't say it at all." Jedediah Bila chimed in that weight is not the sole indicator of health. But Ablow was unmoved.
Initially after he made the controversial comments last week, he doubled down, saying Obama is "obviously not fit" and "dislikes America."
Watch below, via Fox News:
[Image via Fox News/screen grab]
— —
>> Follow Eddie Scarry (@eScarry) on Twitter
Have a tip we should know? tips@mediaite.com