Fox's Kilmeade Doubts Navy SEALs' Call to End Somali Raid Because Kids Were Involved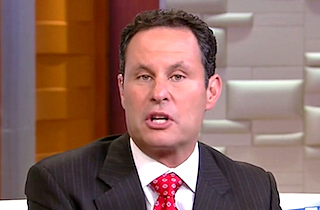 In response to an NBC News report that the Navy SEALs cut short a raid on an al Shabaab compound in Somalia over the weekend in part due to the presence of children in harm's way, Fox & Friends host Brian Kilmeade wondered Tuesday morning if the Seals should have finished the attack, given the violence terrorists could inflict upon children of their enemies.
"They saw children," co-host Elisabeth Hasselbeck said, "and they said, 'You know what? We're out of here. This is not worth it.' I think a lot of people thought that was, and it is, an incredible act of just honor for life, especially the little ones."
The raid failed to net the intended target, Abdulkadir Mohamed Abdulkadir, who is suspected of planning the attack on the Westgate shopping mall in Kenya two weeks ago.
"I will say this," Kilmeade said. "This is something to keep in mind. Nobody wants children hurt. However, this is the guy that put a group together to take down a Kenyan shopping mall, in an upper class neighborhood, where there were kids that were tortured before they were killed. So if this guy's next operation kills children of ours, or kills innocent children in a neighboring country, that happened to not be Islamic extremist—did we make the right decision?
"Because we've taken out terrorists and obliterated places like where Zarqawi lived, and there might have been kids in there. But Zarqawi's been killing our guys, so we have to kill him before he strikes again."
"The Navy SEALs made the determination," Steve Doocy replied. "They had good intel. They knew exactly what room he was going to be in. They looked through the scope, they saw the guy and they saw the kids, and apparently the firefight was so hot, they just said, 'We're going to have to leave.' The Navy SEALs themselves are amazed that none of the Navy SEALs were actually injured or killed."
Watch the full segment below, via Fox News:
[h/t RS]
[Image via screengrab]
——
>> Follow Evan McMurry (@evanmcmurry) on Twitter
Have a tip we should know? tips@mediaite.com