Frank Luntz To GOP: 'The American People Don't Care What The Size Of Government Is'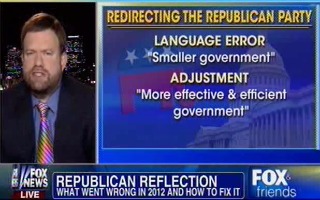 Republican pollster Frank Luntz joined Fox & Friends host Gretchen Carlson on Monday to discuss the GOP's changing messaging in the wake of their electoral losses in 2012. He went through a variety of messaging challenges that the GOP faces, given that the majority of the American people already predisposed to oppose Republican programs. Luntz began by noting that one core Republican principle is not shared by most of the electorate, saying that voters "don't care about what the size of government is."

RELATED: GOP Pollster Frank Luntz: 'I Don't Think The NRA Is Listening' To Americans' Gun Violence Concerns
Carlson noted that Luntz found that, immediately preceding the party's electoral losses, most Americas thought the Republican Party favored "the wealthy" and "big business" over average Americans. Luntz said that the GOP's message of "smaller government" is a loser.
"The American people don't care about what the size of government is," Luntz said. "The do care what kinds of services government gives and, quite frankly, how much government takes."
Luntz complimented President Barack Obama's use of focus group-tested themes which have made his programs broadly more popular than those of the GOP.
Turning towards tax code reform, Luntz warned against the party's use of the term "tax reform." He cautioned that words like "simpler, flatter and fairer" will be better received by the broadest group of Americans.
"The IRS is the most disliked, distrusted institution in Washington," said Luntz. "The American people know that they're paying too much and not getting enough. When you focus on the outcome rather than the process, that's what connects to the American people."
Luntz recommends replacing "capping" with "controlling" when talking about spending limits. He says that the people know that government has a spending problem, but "capping" implies that the measures will be temporary while "controlling" suggests a permanent end to spendthrift government.
Finally, Luntz said that entitlement reforms must be described as "saving and strengthening" entitlement programs rather than controlling or limiting the growth of those programs.
Watch the segment below via Fox News Channel:
> >Follow Noah Rothman (@Noah_C_Rothman) on Twitter
Have a tip we should know? tips@mediaite.com