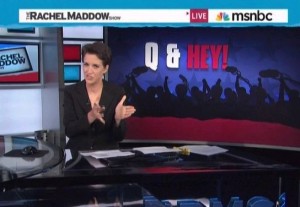 On her show tonight, Rachel Maddow brought up a series of questions she would like to be asked of Republican presidential candidate Mitt Romney to make the point that the campaign would never answer them because of how much it has been dodging the press, most recently during Romney's overseas trip to England, Israel, and Poland.
RELATED: Greta Van Susteren: No Press Access To Romney In Poland, 'Like A Modified Petting Zoo'
Maddow asked questions on everything from Romney using his own money for campaign funds to why he wrote off the family dressage horse as a business rather than a hobby. Maddow explained she was asking the questions as a "Hail Mary pass," because Romney would likely not answer those questions, but insisted they are important questions for the Republican candidate to answer. She observed that it has been difficult to get Romney to give specific answers on policy, and in the context of Romney's strained relationship with the press, she ran the clip of a Romney aide telling reporters to "kiss my ass" as they were shouting questions at the candidate in Poland.
She admitted that the moment should have been a good one for the Romney campaign, but the offending remark immediately turned them into "victims of the boorish, swearing guy from the Romney campaign." Maddow made the case why Romney's campaign should embrace the press and not cut them off from asking important questions.
"It doesn't allow them to shape the narrative at all, to tell the story that they want to tell… The inability of the Romney campaign to actually engage with the press takes away their ability to start new news cycles or to shape existing news cycles based on the candidate's implicitly quoted words. They don't offer those words, and so, they're not affecting the news cycle. The news cycle is about them, it's not from them."
Maddow also noted that after Romney said in an ABC News interview that he would go back and look into his tax returns to see if he ever paid a tax rate lower than 13.9 percent, his campaign did not follow up on the issue. Maddow advised the Romney campaign that while they can "run against the press," they should not be "running from the press."
Watch the video below, courtesy of MSNBC:
Have a tip we should know? [email protected]
Josh Feldman - Senior Editor