George W. Bush Takes Swipe At Obama: Don't 'Raise Taxes On The So-Called Rich'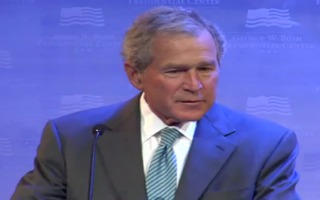 At a speech on Tuesday to the New York Historical Society, former President George W. Bush broke from his aversion to speaking out on politics since he left office and dove into the debate over tax policy. He advocated for lower taxes on the wealthy and spoke out in favor of his signature 2001 and 2003 tax cuts saying, "If you raise taxes on the so-called rich, you're really raising taxes on the job creators."
RELATED: Chris Wallace Grills David Plouffe Over Energy Policy: Obama Criticized Bush For Gas Prices In '08
"We believe that one of the clearest expressions of freedom is that the aggregate demand of the citizens determine that which is produced," said Bush. "We trust people when it comes to spending their money, and so should our government."
"If the goal was public sector growth, it'd be a short conference," said Bush. "We believe that the best policy is that which creates a robust private sector."
Bush went on to be overtly critical of the Obama administration's push for higher taxes on the wealthiest Americans – a dramatic departure from his last three years out of office in which he went out of his way to avoid weighing into the political debate.
"If you raise taxes on the so-called rich, you're really raising taxes on the job creators," said Bush. "If the goal is private sector growth, you've got to recognize that the best way to achieve that growth is to leave capitol in the treasuries of the job creators."
"I wish they weren't called the Bush tax cuts," the president digressed. "If they were called some other body's tax cuts, there probably less likely to be raised."
Bush said that the majority of the political debate today focuses on federal spending, and rightly so. "When you look at the debt to GDP it's pretty high," said Bush. "Or you think about entitlements – the overhang is daunting." Bush said in order to reduce the debt, the focus of the federal government should be on increasing the private sector to broaden the taxpaying base.
Watch the speech to the NY Historical Society below:
h/t Forbes
Have a tip we should know? tips@mediaite.com