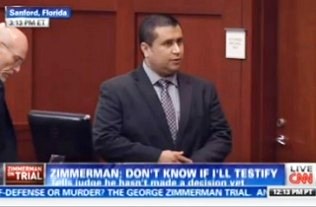 As the defense wrapped up its case in the George Zimmerman murder trial Wednesday afternoon, an odd bit of courtroom audio flew under the radar. The jury was excused for a recess while defendant George Zimmerman finalized his decision whether or not to testify (he elected not to), and prior to the recess, Judge Debra Nelson asked Zimmerman if there were any other witnesses he wanted his lawyers to call. Zimmerman seemed somewhat hesitant.
"Are there any other witnesses you wanted your attorneys to call on your behalf, sir?" Judge Nelson asked.
"N-no, your honor,"Zimmerman replied, then asked "For this hearing?"
"For this trial," the judge replied.
"For the trial," defense attorney Mark O'Mara repeated.
"You've been here through the trial," Judge Nelson said. "We've had — let's see. we've had 40 witnesses that were called by the state, 19 witnesses called by the defense. Some of them were called…"
The judge then seemed to admonish one of the attorneys, saying "I'm sorry. I'm talking to Mr. Zimmerman."
"Some of them were called a couple of times, such as Ms. Singleton," she continued, "so it's really less than 19. My question to you is, Mr. Zimmerman, were there any other witnesses that you wanted your attorneys to call on your behalf at this trial?"
"No, your honor," Zimmerman replied.
"Okay. Thank you very much," the judge said. When we get finished with the recess, I'm going to ask you about whether or not you're going to testify. Take the time you need to talk to your lawyers."
Zimmerman thanked the judge, and as the camera backed away for the recess, he looked back and forth at his lawyers, and asked "Where's the marijuana?"
Zimmerman was likely referring to the trace amounts of THC that were present in Trayvon Martin's autopsy toxicology report. On Tuesday, Judge Nelson ruled that the report could be admitted into evidence, but since then, there has been no witness testimony about the report.
Following the recess, Zimmerman told the judge he had decided not to testify.
Here's the clip, from CNN:
Have a tip we should know? tips@mediaite.com