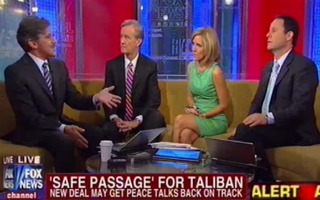 Fox News Channel's Geraldo Rivera told Fox & Friends that he believes the Taliban should be included in a future Afghan government, and that allowing Afghan insurgent's safe passage to travel to abroad to negotiate a peace is a "good thing."

RELATED: Geraldo Rivera Phones In Taliban Spokesman, Asks Him 'How It Feels To Get His Ass Kicked'
Co-host Steve Doocy asked Rivera for his opinion on the news that the United States is attempting to get Talban fighters in Afghanistan back to the negotiating table.
"And as well they should," said Rivera. "We have to negotiate from a position of strength."
Rivera went on to describe his impressions of the Taliban's coordinated attack two weeks ago across the country and in the capitol city that he witnessed. He said that the U.S. and the Afghan forces are verging on a level of success and competency in that country that they can negotiate an advantageous peace with the Taliban.
What was stunning – impressive from [the Taliban's] point of view was that they could coordinate this huge military attack. What was much more significant in the long term was that the Afghan security forces fought them to a standstill, defeated them, killed 38 of them. And really sowed that if this track continues, as we discussed on this couch last week, they will be fully competent to fight the Taliban to a standstill. So — demonstrating strength — now is the time to negotiate with the Taliban and I wholly applaud this effort. You bring them here, let's negotiate.
Rivera also advocated for Taliban representatives inclusion in a post-conflict Afghan government once a peace treaty had been brokered and U.S. forces withdrew from the region.
They have to be part of the government. There is that extremely conservative, even reactionary, very religious segment of the Afghan pollution that they represent. A minority, I think, In the country, but they have to be part of the government. And this is a good thing.
Rivera says that while the coalition combat forces will withdraw form the nation in 2014, the U.S. will remain in the region for at least another decade to provide stability.
Watch the segment below via Fox News Channel:
Have a tip we should know? tips@mediaite.com