Glenn Beck Skeptical About Teresa Heinz Kerry's Hospitalization: 'You've Lied To Us Too Many Times'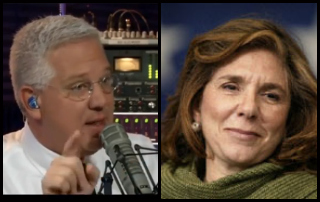 On his radio show this morning, Glenn Beck expressed skepticism about the hospitalization of Secretary of State John Kerry's wife Teresa Heinz Kerry for a reported seizure. Because the State Department was caught contradicting itself over whether the secretary was aboard his personal yacht while the military coup took place in Egypt, Beck suggested that he could easily envision the government using a supposed "hospital stay" to distract from the "huge scandals."
The State Department initially denied last week that Secretary Kerry was aboard his 76-foot yacht during Wednesday's Egyptian uprising. Photographic evidence emerged on Friday morning, however, forcing the department to issue a correction acknowledging that he was, indeed, aboard Isabel during the coup.
With that in mind, "You expect me to believe that 'Mrs. Ketchup' is in critical condition?" a skeptical Beck asked, likening the situation to former Secretary of State Hillary Clinton's hospital stint late last year. "Maybe [Kerry] is [ill], but what happened to Benghazi? Hillary Clinton goes to the hospital. This is the same State Department. … Was that even real?"
Beck then explained to his co-hosts that we are at a point (which he claimed to have foreseen since the Bush era) in which "[the government] has lied to us so many times, we can't believe anything you say to us." He continued: "I don't trust anything the Republicans say. I don't trust anything the Democrats say. I don't trust anything that this government says. You've so violated our trust, I don't know what's real anymore."
Kerry's hospitalization, Beck suggested, might just be "the perfect scenario." While avoiding the fallout from this "huge scandal" over Secretary Kerry's yachting, the department now gets to say "He is having a hard time, his wife is in the hospital." Beck believes this is a convenient way out:
That may very well be true. But I'm sorry, I can't give you any sympathy now because you've lied to us too many times. If that indeed is true, I feel really, really bad. But you get no slack, because just tell us you're on the boat, man.
He brought up the Clinton example once more, asking whether she was genuinely suffering from a serious injury or or was that just a scam so that we didn't talk about [Benghazi]?" Ultimately, he concluded: "These things happen. People go to the hospital for no reason except to get them out of things."
Watch the abridged monologue below, as clipped by RWW:
— —
>> Follow Andrew Kirell (@AndrewKirell) on Twitter
Have a tip we should know? tips@mediaite.com