GOP Congressman On Undocumented Teens: They 'Had A Say' In Whether Family Crossed Border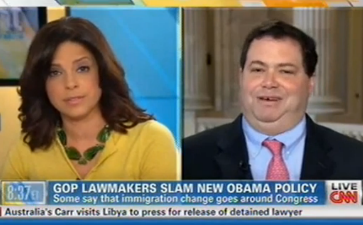 Congressman Blake Farenthold (R-TX) told CNN's Soledad O'Brien on Monday morning that the 16-year-olds who crossed the United States border illegally with their families "had a say in it," and thus the new immigration policy put forth by President Obama is "amnesty" for people who were perfectly capable of making the decision to not immigrate illegally.
The president's executive order declares that the government will cease the deportation of people younger than 30 who came to the United States before the age of 16 and meet a series of criteria including that they pose no criminal or security threat.
The logic behind the policy is that immigrant children ages 16 and younger likely had no say in their family's decision to cross the border illegally.
"You're talking about people that came over at 16 years of age. At that point, you had a say in it. And that looks kind of more like amnesty," the congressman said.
O'Brien was skeptical of this remark, challenging the congressman: "You think a 16-year-old whose parents are coming across the border has a say in whether or not they're just going to stay behind in their country?"
"They're certainly in a position to have a conversation with their parents about it," Farenthold replied.
O'Brien further expressed her disbelief, and then the congressman added as proof: "Believe me, my 16-year-old daughter has given me some input on everything — pretty much everything the family wants to do."
Seriously? His proof that 16-year-olds who immigrate illegally likely had a say in their family's decision to illegally cross is that…his own daughter has a lot of input in family matters?
Yes, the daughter of the 39th richest man in Congress, worth $8.57 million, is exactly like the children of the impoverished immigrants who decide to cross the border illegally. Their situations are perfectly comparable, right?
After all, saying "Daddy, I think we should go to Punta Cana next Christmas vaction" is exactly like saying "I think I should stay back here while you guys cross the border illegally."
Check out the clip below, via CNN:
>> Follow Andrew Kirell (@AndrewKirell) on Twitter
Have a tip we should know? tips@mediaite.com