Grover Norquist Slams C-SPAN Caller Who Accused Him Of 'Gloating' About His Influence Over Politicians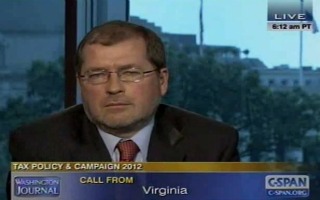 On Wednesday, President of the Americans for Tax Reform, Grover Norquist, took on a caller on C-SPAN who accused him of "gloating" over getting politicians to sign his pledge not to increase taxes while in office. Norquist challenged the caller, saying that the lobbyists in Washington D.C. are strongly opposed to keeping taxes low because they want to finance their interests which is why the "pledge is important."

RELATED: Caption Contest: Grover Norquist Plays Homeless Extra In The New Atlas Shrugged Film
"I'm sort of surprised to see your professional demeanor today," the caller began. "I've seen you on many talk shows where you're just gloating about the fact that anybody who signs one of your tax pledges and then goes against it will get the wrath of, you know, your political influence should they try to run again…"
"Actually, people often say that about me but it's actually not true," Norquist interrupted. "The American people have asked their elected officials to not raise their taxes. We just make it easier to know whether or not that's true."
"You're suggesting that money doesn't play a part in political campaigns," the caller asked.
"The spending interests in this town that want to spend a lot of money in Washington D.C. make a lot of contribution to politicians and say, 'please don't sign the pledge. I want you to be free – not to report to the American people and not raise their taxes – I want you to be able to raise taxes," said Norquist.
"The buildings that are built here, and the ones you can see out these windows, are built by lobbyists who lobby for more spending and they need the government to raise taxes," Norquist continued. "So, they do get very unhappy and very disappointed. But our job is to let voters know where people are."
He went on to attack former Democratic Virginia Govs. Mark Warner and Tim Kaine for pledging not to raise taxes and then backtracking on their commitment once in office.
"The reason why the pledge is important is that when you've put it in writing that you won't raise taxes, voters have a copy that is online and they can keep you – um, make sure that you're responsible for what you do as opposed to Warner and Kaine, saying you won't do it and then raising taxes," concluded Norquist.
Watch Norquist take on a caller via C-SPAN:
Follow Noah Rothman on Twitter
Have a tip we should know? tips@mediaite.com