Guys, It's Okay. George W. Bush's Head Has Been Removed From Game Of Thrones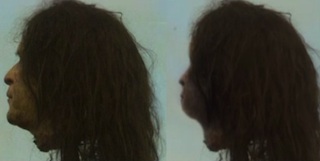 Everyone, it is with great relief that I bring you this news; our time of national chaos is at an end. When news broke that you could kind of see a a prop head that looked like former President George W. Bush in the background of an episode of Game of Thrones, the nation was sent into a spiral of rage and distrust. Protesters rioted in the streets. Looters decimated local stores. And fans of the book series willfully spoiled future events for people who just watched the TV show. It was awful. HBO tried to quell the bloodshed by removing the episode from all formats. However, that wasn't enough. The memory still remained (and also, that episode was super bad ass and people really wanted to watch it). Fortunately, through the magic of the House of After Effects, HBO's digital effects wizards have obscured the face and the episode has returned. America is safe again.
The Washington Post has an image of the new head and, basically, it appears that someone at HBO just went at the thing with the Photoshop Smudge effect for like five seconds making the head look kind of like a big blurry ball with hair. It would appear that President George is now Curious George. Oh well. Anything to keep the crazies from thinking HBO has some secret liberal axe to grind (The Newsroom is going to do enough damage on that front).
Anyway, good on HBO for defusing this nontroversy as quickly as possible. However, this might not be the end of the troubles. As far as I can see, there has been no movement on eliminating the show's character designed to look like John McCain.
Check out a comparison of the two heads above.
(h/t The A.V. Club)
Have a tip we should know? tips@mediaite.com