Hannity Panel About Media Bias Descends Into Shouting Match About Daily Caller's Media Matters Report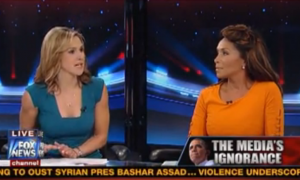 On Tuesday night, Sean Hannity's panel descended into a shouting match between two contributors as Hannity sought to discuss what he perceived as media bias that is doing "a disservice" to the country. The segment, however, was less of a discussion than a series of shouted remarks about a recent Daily Caller report.
While the media's been focused on Romney's recent comments, Hannity questioned why that same critical coverage is absent when it comes to Obama's economic and foreign policy record, and the new Daily Caller report bearing the headline, "Emails reveal Justice Dept. regularly enlists Media Matters to spin press." That's not objective media, he said.
Tamara Holder quipped that she thought the segment was about the Daily Caller story, with Hannity interjecting with his question: "Do you think the sellout media in this country is doing the American people a service in exposing the truth before a tipping-point election?"
As Holder went to remark about the Freedom of Information Act requests by the Daily Caller, the segment descending into back-and-forth shouting between Holder and Angela McGlowan, who, provoked by repeated questioning from Holder ("Did you read the letters?"), sharply replied, "First of all, I'm not a child here, and I'm not being questioned by you. This is [Hannity's] show."
Eventually interrupting, Hannity again drew contrast between the outrage over Romney's Middle East comments and the lack outrage over Obama's actual actions. Countering Holder's segue into discussing Romney's recently-published "47 percent" video, Hannity brought up the 1998 remarks in which Obama spoke about redistribution.
Holder responded by questioning what the debate in the segment was even about. Again, that led into shouting between Holder and McGlowan, with Hannity later answering that the debate was about media bias. The media are doing "a disservice" to the country, he said, by not focusing "on the important issues."
Without much discussion of Hannity's point, the segment ended with more shouting over the Daily Caller story, with Holder arguing there was no deception and McGlowan vehemently disagreeing.
The segment below, via Fox News:

Have a tip we should know? tips@mediaite.com