Hardball Segment Dripping With Hatred For 'Evil,' 'Snarling' 'Troll' Dick Cheney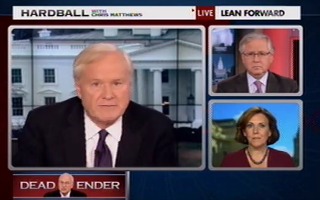 Hardball host Chris Matthews and his panel guests tore into former Vice President Dick Cheney on Monday after he told a group of Republicans over the weekend that President Barack Obama's picks to handle national security issues in his second term are "second-rate people." At various points, Matthews called Cheney an "evil" "snarling" "troll" over his comments, prompting one guest to express concern about the appropriateness of Matthews' rhetoric.

RELATED: Chris Matthews On GOP Obama Conspiracies: 'It's Almost Like An Addiction To Being Afraid'
After playing a montage of clips from the pre-Iraq war era featuring Cheney making the case for the invasion of that Middle Eastern nation, Matthews asked his guests "where do you learn to be that evil?"
"We lived through that time. We were lied to – flat out lied to – in that way, and for him to say that the president is appointing second-raters, that was first-rate bilge," said Huffington Post editor Howard Fineman.
When Salon editor-at-large Joan Walsh said that Cheney was no longer relevant and that fact should be celebrated, Matthews mocked the people who still concern themselves with what Cheney has to say by adopting a lilting tone and pantomiming a golf clap. "Wyoming doesn't deserve this guy," Matthews said.
"Maybe Dick Cheney has a case of drone envy here," Fineman opined to the laughs of his fellow panelists. Fineman suggests that the former vice president is jealous of the negative attention Obama is receiving from the American Civil Liberties Union over this administration's drone warfare program. Matthews cautioned Fineman to tone down the excessive sexual metaphors he employed to make his point.
"Those of us who have been upset about the drone policies, we can't go around calling Barack Obama 'Cheney-lite,' because now we are really reminded of the source of evil from the White House from that administration," Walsh added.
"That snarl that he has when he talks with that evil manner of his, and there's this sort of avuncular, as I said, when he snarls, it's hardly Elvis Presley snarling," Matthews added. "Thank God a troll occasionally looks like a troll."
After a pause, Fineman replied, "I get uncomfortable with that kind of language, Chris."
Watch the segment below via MSNBC:
> >Follow Noah Rothman (@NoahCRothman) on Twitter
Have a tip we should know? [email protected]