Harris-Perry Loses Cool Over Guest's Comment, Yells 'I Am Sick Of The Idea That Being Wealthy Is Risky'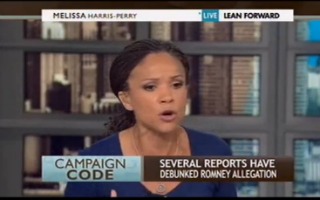 On her show Saturday morning, MSNBC host Melissa Harris-Perry grew visibly frustrated over a guest's assertion that the "big thing" missing in the President's "you didn't build that speech" was an emphasis on taking risks, raising her voice and slamming down on her desk as she gave an impassioned rebuttal insisting that, no, the real risk is in being poor in America.
"What is riskier than living poor in America?" Harris-Perry demanded. "Seriously! What in the world is riskier than being a poor person in America? I live in a neighborhood where people are shot on my street corner. I live in a neighborhood where people have to figure out how to get their kid into school because maybe it will be a good school and maybe it won't. I am sick of the idea that being wealthy is risky. No. There is a huge safety net that whenever you fail will catch you and catch you and catch you. Being poor is what is risky. We have to create a safety net for poor people. And when we won't, because they happen to look different from us, it is the pervasive ugliness."
The panel then offered their respective takes on the issue, one guest noting that, sure, the government gives us roads, but some of us use it to go to Dairy Queen, while others use them to build businesses. Another guest pointed out a New York Times cover image of a black man laying back in an otherwise empty-looking New Orleans shelter, which she interpreted as an attempt to give an example of a "lazy person" living off others' work.
Later on in the show, Harris-Perry offered an apology for "losing my temper earlier," adding that it's been a particularly hard week. Harris-Perry, as you may be aware, was among those who lost their homes this past week as Hurricane Isaac slammed into the Gulf.
Edit: I want to reiterate a question I posted along with our Facebook link to this story: Did Harris-Perry really have to apologize for "losing her temper," a she put it? While I disagree with her premise that there's this pervasive narrative that being wealthy is painted at risky (while at the same time agreeing that there is a "pervasive ugliness" in how people characterize poor Americans), she spoke with passion, conviction, and without making her points a personal attack aimed at her guest. Politics aside, where's the line between losing one's temper and expressing something with passion?
Have a look at both the segment and Harris-Perry's apology below, via MSNBC:
Have a tip we should know? tips@mediaite.com