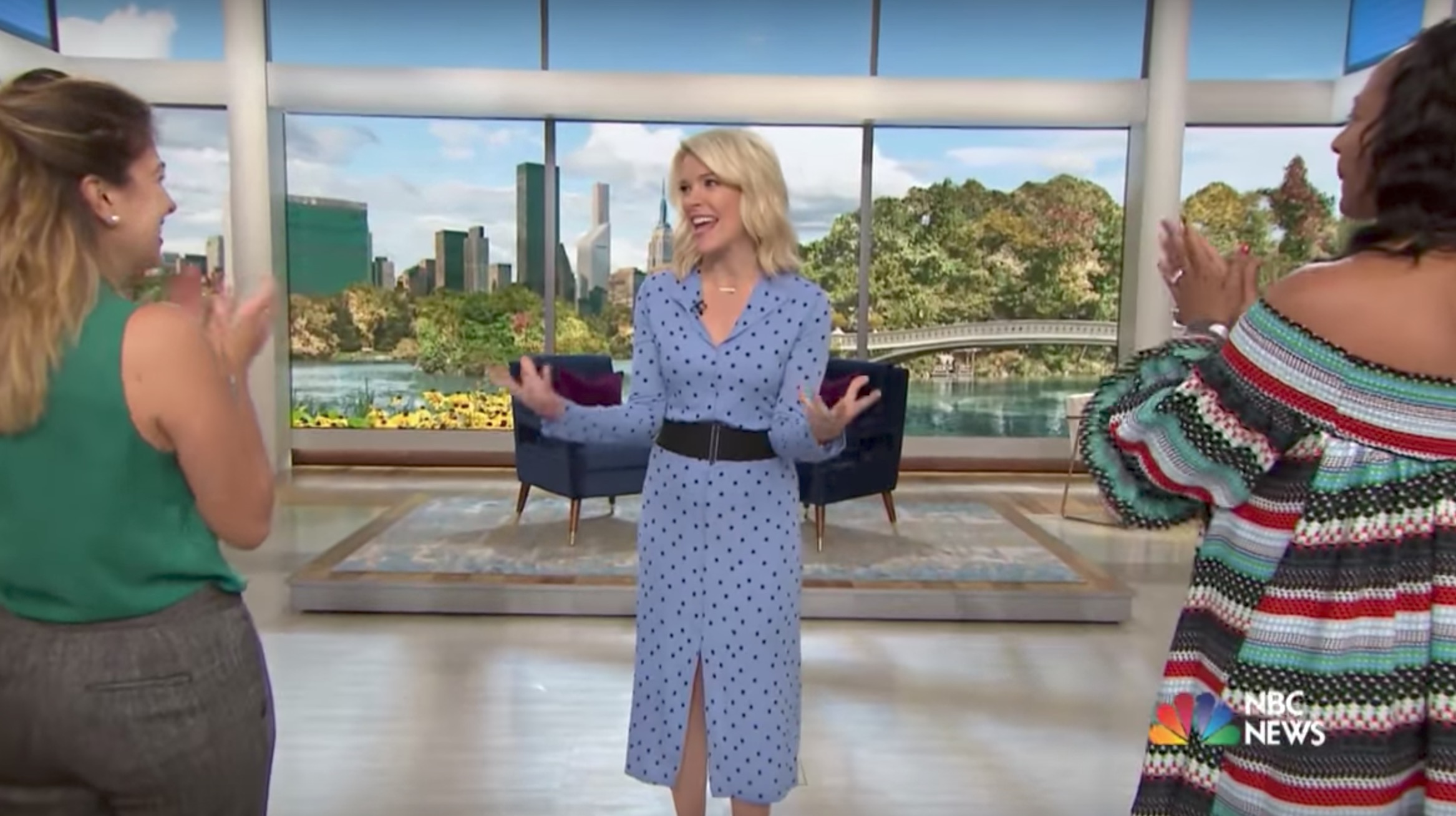 Let me be clear at the outset, I don't know if Megyn Kelly's new NBC show will succeed. After all, it's LESS THAN two weeks old so how can anyone really know.
I have always liked Megyn personally and more importantly, respected her as a news anchor and reporter. She has the sort of journalistic range, and charm, that is rarer than many understand. So it came as no surprise to me that there was a bidding war for her services.
If you just read the reviews of her first week, however, one would leave with a very different impression. From Jane Fonda to the Washington Post to some of the folks right here at Mediaite, so many seemed to seek out hiccups with the sort of glee typically reserved for hypocritical politicians. After all, she is making between 15 and 20 million per year and is a smart, confident, attractive woman — a perfect recipe for loathing everything about her. But the rhetorical missiles that clouded her debut felt like more than just petty jealousies; the vitriol directed at her in social media and beyond has an angrier, more personal tone.
Even the sunny demeanor expected from a network morning show anchor is questioned when employed by Kelly as phony, or mocked as cringeworthy and contrived.
My theory? The very politics she hoped to leave at the doorstep. Many conservatives who watched her on Fox view her as a heretic for her tough questioning of Trump, hard-to-pin-down ideological leanings on women's issues and her willingness to work in the mainstream media at all. Liberals focus on the fact that she was at Fox for all those years often criticizing President Obama, and then there were her dustups over race-related issues. It used to be a journalistic badge of honor when both sides went after you, when members of neither political party felt totally safe because the questions would always be tough. Not anymore. The very fact that she appeared non-partisan in a tough cable world, helped raise her stock and yet it is for that same reason that many are now unfairly shorting it.
If you play in the political arena, which includes the media these days, you are either on our team, or the enemy. We have seen that here at Mediaite with cable news hosts from Fox accusing the site of being liberal while MSNBC hosts refer to it as a "conservative" site. In that regard, we can't win and I fear neither can she.
Think about the two mostly widely covered "missteps" in her first week. 1) Asking Jane Fonda, a known liberal activist, about plastic surgery, a topic she has spoken about publicly and apparently even on that very media tour with Robert Redford. But when Kelly asks it's "weird" and "the wrong time and place." The media then piles on.
And 2) Debra Messing expresses retrospective "regret" for appearing on the show in light of a comment Kelly made about how a young gay man in the audience had been inspired by the show Will and Grace. Messing responded to an Instagram comment on her profile claiming she was unaware that the appearance would be with Kelly, adding she was "dismayed" by the comment. Except she apparently didn't feel that way shortly after her appearance when she retweeted this celebratory tweet from co-star Sean Hayes about their appearance:
Having fun on the premiere episode of @megyntoday. https://t.co/DJi3qjt9K8 pic.twitter.com/E2xv2tOIDo

— Sean Hayes (@SeanHayes) September 25, 2017
Liberal outlets like Vanity Fair and Salon on the one hand, and friends of Fox News on the other, all have the knives out.
I remember watching NBC's Hoda Kotb transition from hard news to morning show host. It felt odd at first because so many had become accustomed to her in such a different capacity but she has become a breakout star in her new role. And I like the limited amount I have seen of Kelly's show thus far but don't have nearly enough information to decide about this new role for her. Many in media and on social media, however, have already reached a verdict on the former lawyer not necessarily based on the evidence presented but on preconceived notions of what Megyn Kelly is, or ought to be. That is not a fair trial.
This is an opinion piece. The views expressed in this article are those of just the author.