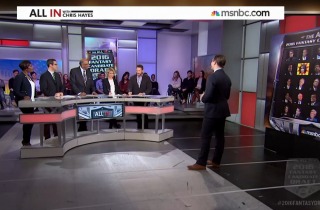 On Thursday evening, MSNBC's All In w/ Chris Hayes aired a special "2016 Fantasy Candidate Draft" game show episode, wherein five participants each blindly selected five potential candidates off a board and punditized their picks along the way.
Consider this a rare positive review of a cable news show. Not only was the draft fun lots of fun, but it had moments of hilarity (great one-liners for each candidate's introductory videos), self-deprecation, and sheer watchability. Perhaps CNN's entry into the game show field — a political Jeopardy-like show airing Presidents Day — won't be so cringe-worthy after all.
In case you're interested in following along with the All In fantasy league, which ends Nov. 8, 2016 (or whenever the next President of the United States is officially determined — hanging chads be damned), here's a full recap with the final teams and how the points work.
The participants: MSNBC's Reid Report host Joy Reid, The Majority Report host Sam Seder, former RNC chairman Michael Steele, EMILY's List comms director Jess McIntosh, and New York Times correspondent Josh Barro.
Over the next 23 months, the five participants will be award points in the following manner:
100 points for each candidate's official announcement.
200 for every sanctioned debate in which their candidates participate.
300 if their candidate makes the Iowa caucus.
500 if their candidate wins any state primary election.
500 if their candidate becomes a VP pick.
750 if their candidate wins their respective party nomination.
1000 if their candidate wins the presidential election.
After five rounds of blind (read: they didn't know who they were selecting behind number cards) drafting, analysis, and some candidate-stealing intrigue, here are the final teams:
Joy Reid
George Pataki
Jim Webb
Rick Perry
Chris Christie
Mike Huckabee
Sam Seder
Scott Walker
Lindsey Graham
Jeb Bush
Hillary Clinton
Mitt Romney [Womp womp womp]
Michael Steele
Bobby Jindal
Rick Santorum
Bernie Sanders
Marco Rubio
Martin O'Malley
Jess McIntosh
Ben Carson
Joe Biden
Rand Paul
John Kasich
Oprah Winfrey [Traded for Donald Trump in the bonus round]
Josh Barro
Ted Cruz
Carly Fiorina
Bob Corker
Elizabeth Warren
Bob McDonnell [Traded for Sarah Palin in the bonus round]
Watch below in six parts, via MSNBC. It's well worth it:
— —
>> Follow Andrew Kirell (@AndrewKirell) on Twitter
Have a tip we should know? tips@mediaite.com