'Hooray!': After Hearing Holder's New Letter, Rand Paul Declares Victory During Interview With Megyn Kelly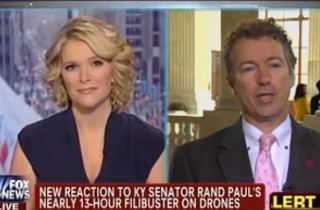 After reading Attorney General Eric Holder's post-filibuster letter to him, Sen. Rand Paul (R-KY) declared victory on Fox's America Live this afternoon. Holder's letter gave the senator a definitive answer that the executive branch does not have the authority to execute "targeted assassinations" of American citizens on U.S. soil.
Holder's letter, sent this morning to the libertarian-leaning senator, stated matter-of-factly that the U.S. would not use "weaponized" drones to targets American citizens on domestic soil. Fox host Megyn Kelly read the terse letter to Sen. Paul, live on-the-air, prompting him to express joy and declare victory.
Kelly told Sen. Paul that Fox had received the Holder letter just three minutes prior to the segment airing. She read aloud that the attorney general wrote: "It has come to my attention that you have now asked an additional question: 'Does the President have the authority to use a weaponized drone to kill an American not engaged in combat on American soil?' The answer to that question is no."
"Hooray!" Paul said. "For 13 hours yesterday we asked him that question. And so there is a result and a victory. Under duress and under public humiliation, the White House will respond and do the right thing. It took a month and a half to get them to admit that the CIA doesn't operate in the United States.
"That's been the law since 1947. So now, after 13 hours of filibuster, we're proud to announce that the president is not going to kill unarmed Americans on American soil."
He added that he would now like to ask the president: Why did it take so long? Why is it so hard? And why would a president so jealously guard power that he's afraid to say this?"
However, he concluded, "I am glad. And I think the answer does answer my question."
Watch below, via Fox:
— —
>> Follow Andrew Kirell (@AndrewKirell) on Twitter
Have a tip we should know? tips@mediaite.com