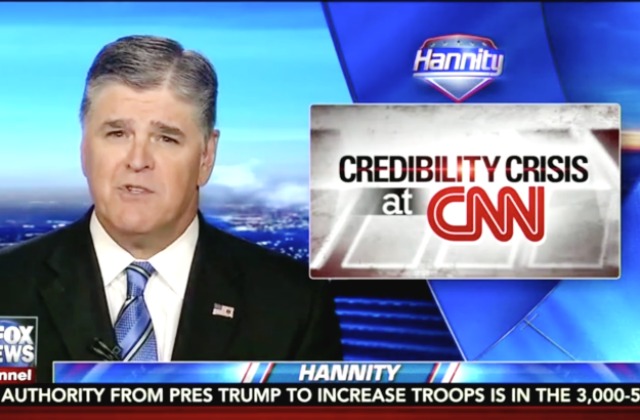 Three senior CNN reporters resigned this week after the news organization was forced to retract an unsubstantiated report detailing Trump-ally Anthony Scaramucci's ties to a Russian investment fund supposedly being investigated by the Senate.
The thinly sourced article was penned by veteran journalist Thomas Frank and edited by Pulitzer Prize winner Eric Lichtblau under the oversight of Lex Haris, the executive editor of CNN Investigates, who all resigned from CNN on Monday. The piece was retracted a day after it was published, with CNN issuing an apology to Scaramucci, which he gracefully accepted.
The network's efforts to clean up after its rash publication of a faulty piece were insufficient, however, for its perennial cable rival Fox News.
Tucker Carlson kicked things off Monday night, lambasting CNN's "descent from news organization to political campaign." Sean Hannity could hardly contain his glee as he slammed the "professional Trump haters" pushing "conspiracy theories," and called for the "Clinton News Network" to fire its president Jeff Zucker. Fox & Friends picked up the crusade against CNN Tuesday morning, with Newt Gingrich appearing on the show to call the culture at the network "toxic," and suggest CNN bring in a former attorney general to overhaul its coverage.
The gleeful media criticism was a breathtaking pot kettle routine for a network which routinely flouts journalistic ethics and disregards any accountability for its newspeople.
Just hours after Hannity bloviated on his Monday broadcast about CNN's "major credibility crisis," he took to Twitter to claim his "investigation continues" into the conspiracy theory that DNC staffer Seth Rich was murdered because of his alleged ties to Wikileaks.
Malia Zimmerman, a Fox News reporter with a penchant for conspiracy, wrote a false story that the FBI was investigating communications between Rich and Wikileaks on the late staffer's laptop, which was swiftly debunked and retracted by FoxNews.com. But Hannity continued all the same — pursing the case with vigor on his nightly show, despite all available evidence and pleas from the family to stop exploiting their son's murder for political gain.
Fox & Friends also devoted extensive coverage to the Rich conspiracy, with none other than Newt Gingrich appearing on the morning show to promote the demonstrably preposterous theory that Rich was murdered by DNC officials for communicating with Wikileaks.
When Fox News retracted the report, there was no apology to the Rich family for exploiting their son's death, and Hannity noted on Twitter Monday night that he has "retracted NOTHING." It is not clear that anyone involved in the shameless promotion of a debunked and vicious conspiracy theory on national television was disciplined, as the Fox News PR team remains mum on questions about the ordeal.
Malia Zimmerman continues to write for FoxNews.com, Sean Hannity held onto his nightly show and Newt Gingrich appeared on Fox & Friends just Tuesday morning (to bash CNN, of course).
And it's not just Seth Rich either. Bret Baier, the patron saint of the network's "hard news" arm, was forced as recently as November to retract a false story detailing an FBI investigation into the Clinton Foundation, which was subsequently debunked.
While it's disappointing that the veteran investigative team at CNN jumped the gun and hastily published an insufficiently vetted report, leading to the purge of several incredibly accomplished journalists, the network was thorough in its clean-up job and admirably held its reporters accountable for their mistakes. If Fox News held itself to the same standards, it's not clear they would have enough reporters on staff to fill a half-hour program.
[image via screengrab]
—
Follow Aidan McLaughlin (@aidnmclaughlin) on Twitter
This is an opinion piece. The views expressed in this article are those of just the author.
Aidan McLaughlin - Editor in Chief