In Interview, Playboy Latches On To Months Old Ratings To Make Point About Fox, Hannity Being 'Out Of It'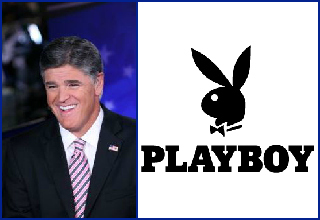 Fox News Channel host Sean Hannity recently sat down with a reporter with Playboy for an interview ahead of his 1,000th show. Playboy's contributing editor, David Hochman, decided to grill Hannity on the recent drop in the ratings for his show and his network in general. The interview appears to have become contentious, which I suppose was the point. The problem: there has been no ratings drop for Fox or Hannity in several months.

At some points, the interview reads like Hannity sat down with White House Press Sec. Jay Carney. "What is it precisely about liberals that bothers you so much?" Hochman asks out of the gate. He later responds to the fact that General Motors has not yet fully paid back the government for their federal bailout – a policy decision which can be and has been linked to politicians from both parties – by reciting a litany of Obama's accomplishments.
PLAYBOY: Obama's supporters would say he's done quite a bit. He passed health care reform. He passed the stimulus. He passed Wall Street reform. He eliminated Osama bin Laden. He turned around the U.S. auto industry.

HANNITY: Do you know GM still owes the taxpayers $50 billion that we'll never get back?

PLAYBOY: He recapitalized banks. He began to end the war in Afghanistan. He ended the war in Iraq. He boosted fuel-efficiency standards and advocated for alternative energy.
Having established the adversarial atmosphere he was apparently striving for, Hochman turned to Fox News Channel's ratings:
PLAYBOY: Let's move on. Fox News's ratings are down, and your show in particular has taken a hit this year.

HANNITY: No, actually, our ratings are back up.

PLAYBOY: Your ratings were down 35 percent in February.

HANNITY: Well, from the year before, which was an election year.

PLAYBOY: Rachel Maddow has beaten you in your time slot.

HANNITY: Never! Not once!

PLAYBOY: She has in the key 25- to 54-year-old demographic.

HANNITY: But overall, we're at double her ratings. You've got to be careful how you make these comparisons.

PLAYBOY: Fox News overall hit a 12-year ratings low in January and recently had a record low in a poll on viewer trust. The perception among many is that Fox News is out of it. Is there anything you're doing to change that perception?

HANNITY: No. You know, I've been in this business a long time, and I'm not one who obsesses over ratings, but I will tell you this. There is a natural ebb and flow due to election years and major events such as Hurricane Katrina or Sandy or the wars in Iraq and Afghanistan. Any issue of that sort will drive ratings up and down. I will tell you that after the election, a lot of people who didn't want Barack Obama to get a second term threw up their hands in disgust, including myself. I can go back and show you all the years that I've been through presidential elections on radio. You see the spike, you see the decline, you see the spike—it's part of the news cycle. It's the story of my life.
First, Kudos to Hannity for explaining the nature of election cycles and ratings-driving events in such a measured fashion.
Second, it is clear that the interviewer was married to his conclusion – that Fox and Hannity were "out of it" – and refused to let the facts get in the way.
On a handful of occasions after the 2012 election, when Republicans and conservatives were understandably ready to divorce themselves from politics in the wake of Mitt Romney's loss, Hannity was just barely beaten by Maddow in the 25 – 54-year-old demographic. Fox News Channel did, however, maintain nearly double MSNBC's total viewership.
That was many months ago, tough, and several major changes have been made to MSNBC's programming lineup in the interim.
Since February, Hannity's viewership grown 14 percent in the demo and 17 percent in overall viewers. In May, his show was the second highest rated program in all of cable news. Just two weeks ago, on June 5, Hannity more than doubled Maddow's ratings in the demo.
This ratings rebound is not a recent phenomenon either. In the wake of changes to MSNBC's prime time lineup in early April, the network fell behind both CNN and Fox. For the week of April 15 – 19, MSNBC averaged just 639,000 viewers to CNN's 1.44 million and Fox's 1.97 million.
Once the real ratings are clear, it's obvious that the only "perception" that needs to be changed is Hochman's regarding just out "out of it" Fox and Hannity are. His conclusion is not supported by the numbers.
> >Follow Noah Rothman (@NoahCRothman) on Twitter
Have a tip we should know? tips@mediaite.com