In NRA Speech, Mitt Romney Positions Himself As Alternative To Big Government-Promoting Obama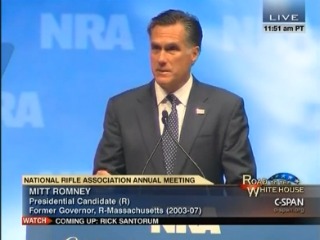 GOP presidential hopeful — and the party's presumptive nominee — Mitt Romney spoke at the NRA's annual leadership forum in St. Louis Friday afternoon. He kicked off his speech by introducing his wife (and "sweetheart") Ann Romney. Acknowledging the recent debate around working women and motherhood that ignited after CNN contributor and Democratic strategist Hilary Rosen told Anderson Cooper that Ann had "actually never worked a day in her life."
"All mothers are working mothers," the former Massachusetts governor smiled, welcoming his wife onstage.
RELATED: Hilary Rosen Apologizes To Ann Romney
Ms. Romney noted that the only correct portion of the phrase "women are a special interest group" is "women are special" adding that women are interested — and mad about — a variety of matters, most notably the economy.
Mr. Romney then greeted the audience, referring to the NRA as a "single interest group" where the single interest in question is protecting freedom and emphasizing the importance and relevance of the U.S. Constitution. He had some criticism for Barack Obama, accusing the President of limiting freedom and expanding government, offering himself as the clear alternative.
Have a look at our Part 1 of his speech, via CSpan:
RELATED: Martin Bashir And Michael Steele Battle Over Whether Romney, Obama Are Treated Equally On Religion
And here's Part 2, during which Romney hits hard at Obama's administration for its recent struggles with the Catholic Church regarding contraception, promising to be a "staunch defender of religious freedom."
He also criticized liberals for attempting to erode people's second amendment rights and slammed the Obama administration — particularly Attorney General Eric Holder, whom he called to resign — for its role in the botched "Fast and Furious" gun running operation.
Have a tip we should know? tips@mediaite.com