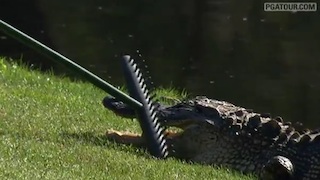 I'm going to be honest; I find watching golf on TV to be one of the most boring activities a human being can partake it. I just can't do it. If I'm in a house and golf's on the TV, I get simultaneously furious and sleepy. It's basically the number one reason why I left my parent's home the instant Easter stuff was done this past weekend. However, you know what would get me to watch golf more? If there was more footage of people facing off against giant alligators. Fortunately, we have this video.
During the opening round of the PGA's 2012 RBC Heritage event on Hilton Head Island, golfer Brian Gay was on the 15th hole and hit his ball just a little too close to a baby gator. The baby's 10-foot-long father wasn't too thrilled and decided to come plop right up on the course and just sit there. Fortunately, Gay's caddie Kip Henley takes his job more seriously than I plan on ever taking a job ever and stepped in to shoo the gator away with a bunker rake.
From Myrtle Beach Online:
"'I wasn't going to go near him, but my caddie's not scared of him,' Gay said. 'It took at least 10 minutes and he just wouldn't move. There was a baby about 20 feet away on the bank and we think that's why he didn't want to move. When he finally got in the water he just stayed right there. So I couldn't get over there to hit.'"
The golf balls on that guy!
Check out the video from the PGA below:
Have a tip we should know? tips@mediaite.com