Is Former Rep. Alan Grayson Eric Bolling's Most Difficult Guest To Interview Yet?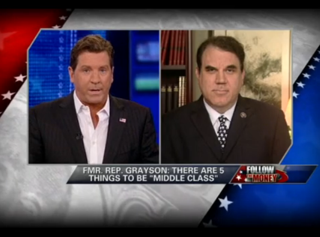 Remember former Congressman Alan Grayson? Grayson quickly become one of the most well-known freshman representatives for his brash style and unabashedly liberal politics, but couldn't survive his first reelection bid last November. He now occasionally pops up on television– like this latest appearance this week on Follow the Money, where Grayson did everything he could to act dismissive and annoyed at host Eric Bolling for challenging his politics.
Unlike in many of the appearances that gave him a reputation around Congress, Grayson was fairly calm on Follow the Money, so much so that it wouldn't have been a stretch to think he was doing everything possible to give the impression there was nowhere he would rather not be than the Fox Business channel. His first answer to Bolling's question– whether his recent list of five things that make a person middle-class would mean the government should buy anyone whatever they want– was simply "do you have a question?" It didn't progress too much further from there, as Bolling asked Grayson varying formed of the question "who is going to pay for the social programs you support" and received variations of "I think you're misunderstanding my point" and "it's not even a point you can argue about" as an answer.
In order to get the dialogue flowing a bit, Bolling then notes that the support of so many social programs is "socialism right there, that's Marxism," but rather that getting riled up, Grayson repeated once again, "I don't know what you're talking about." He did answer one question straightforwardly meant to find common ground– Bolling got a "it's been good to me" for asking whether "capitalism is a great system."
But while Grayson's restrained smugness makes the entire interview a must-see, the ending is borderline surreal, as Bolling hopes to have Grayson on "maybe when you're a little bit more animated" and reminds Grayson, "we don't bring you out because you're a handsome guy, though you're pretty handsome." This finally gets a genuine relaxed laugh out of Grayson, who replies without skipping a beat, "right back atcha!"
The segment via Fox Business below:

Have a tip we should know? tips@mediaite.com