Jake Tapper Hits Congress for Killing Bergdahl Tweets: 'You Can't Delete a Prayer'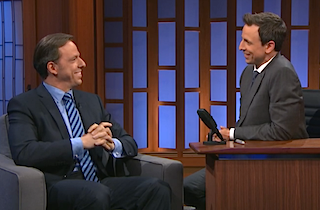 CNN's Jake Tapper has been all over the Bowe Bergdahl story from the beginning, so when he sat down with Seth Meyers last night, the host asked him to help inform the Late Night audience about the latest developments. Specifically, Meyers asked Tapper to weigh in on the politicians who appeared to be for the Bergdahl swap — until President Barack Obama authorized it.
As Meyers noted, Tapper "called out" Sen. John McCain (R-AZ), who himself spent five years as a prisoner of war in Vietnam, for essentially switching his position on the deal.
"There are a lot of politicians who said things about Bowe Bergdahl before he came home that then suddenly, when they found out about either the details of the swap or about how he came to allegedly have left the observation post, they suddenly changed their mind," Tapper explained.
RELATED: CNN's Jake Tapper Makes Important Clarification About Bergdahl's Fellow Soldiers
He pointed to tweets sent out by a number of Congress members upon hearing news of the release that were later mysteriously deleted. "The best is the people who had, like, tweeted their thoughts and prayers to Bowe Bergdahl and then all this stuff happened and they went back and deleted their prayers," Tapper said. "You can't delete a prayer."
"I saw that on a sign outside a church once," Meyers joked. When Tapper called deleting a prayer the "weirdest" thing it the world, Meyers added, "It's also the strangest thing that government officials don't know how Twitter works."
Watch video below, via NBC:
[Photo via screengrab]
— —
>> Follow Matt Wilstein (@TheMattWilstein) on Twitter
Have a tip we should know? tips@mediaite.com