James Carville to Imus: Obama Only Has Himself to Blame for 'Awful' Rollout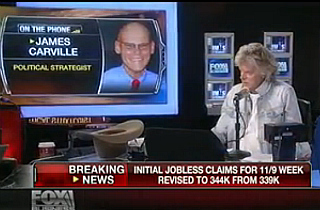 Appearing on FBN's Imus in the Morning on Thursday, James Carville suggested that President Obama has nobody but himself to blame for the "awful" rollout of the Affordable Care Act.
Reacting to Obama's broken "keep your healthcare plan" promise, Carville said, "He could have said it a lot more elegantly than he did," but that the president's woes are "all self-inflicted."
"I think this rollout, which I think they got to get right, was a disaster, it was a joke," he continued. "And there was a way to talk about, you know, how many people would get to keep their health insurance in a way that wasn't causing this much trouble. I'm one of the few people who have believed, and continue to believe, that in the end this thing will work pretty good."
Carville remains hopeful, however, that the Affordable Care Act will work out just fine. "In places where it's up and running — i.e., Massachusetts and some of these other places, you know, California, Connecticut, Kentucky — it is actually doing fine," he noted.
"They're going to get better," he stated. "But the rollout of this has been awful, and it didn't have to be that way at all. And I think the president has himself to blame as much as anybody. I don't think he was done in, in this instance, by the Republicans, or done in by the media, done in by anything. It was just a massive mess-up that's cost him and cost the Democratic party some grief. Maybe temporarily, I hope, but it's certainly caused some grief out there."
Watch below, via FBN:
— —
>> Follow Andrew Kirell (@AndrewKirell) on Twitter
Have a tip we should know? tips@mediaite.com