Jan Brewer To Fox & Friends: Senate Immigration Hearing Is A 'Publicity Stunt'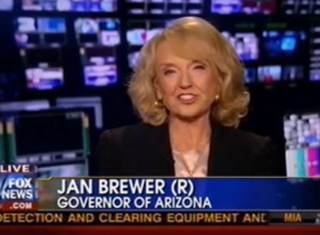 Arizona Gov. Jan Brewer has been invited to the White House for a national meeting of governors, and given her last interaction with President Barack Obama, many are reasonably wondering whether that exchange will be as contentious as the last, and whether she will play nice with the Washington powers that be after refusing to testify about immigration law before Congress. Gov. Brewer visited the crew at Fox & Friends this morning to discuss these and more issues, noting she didn't expect any one-on-one time with the President and explaining why she won't testify: "[Sen. Chuck Schumer] invited me to the party a little late."
RELATED: Melissa Harris-Perry: Image Of Brewer And Obama Reminds Me Of Civil Rights Era Photo
Gov. Brewer told host Alisyn Camerota that she did not expect to speak one on one with the President given that it was a meeting of governors, but also did not seem to expect too much to come out of it, saying they would likely discuss "more what he wants to talk about than what we want to talk about." Camerota then asked about Sen. Schumer's invitation to her to testify before the Senate on immigration legislation and what she believed the problems to solve were, an invitation Gov. Brewer declined.
"He's invited me to the party a little late," Gov. Brewer joked, "we're going to hear from the Supreme Court in April." As the issue was already in the courts, Brewer argued that the entire operation was "more or less a publicity stunt and self-serving," and she simply didn't have the time.
Camerota also asked Gov. Brewer whether she planned to endorse a Republican candidate. Gov. Brewer coyly answered in the affirmative, but refused to say who until Monday. "I'm still thinking," she noted.
The segment via Fox News below:

Have a tip we should know? tips@mediaite.com