Jay Carney: 'Entirely Appropriate' for Obama to Attack GOP in Wake of Mass Shooting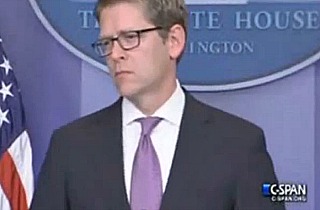 On Monday during a lengthy speech remembering the financial crisis of 2008 five years later and his administration's responses to that crisis, President Barack Obama tore into Congressional Republicans for trying to defund "Obamacare" and threatening to shut down the government. Obama asked if the GOP was really "willing to hurt people" while police were still hunting for possible gunmen linked to the shooting at the Washington Navy Yard. Later that afternoon, White House Press Sec. Jay Carney told Fox News Channel's Ed Henry that it was "entirely appropriate" for Obama to make those remarks.

"You mentioned at the top about the shooting and the president offered his thoughts and prayers and he pushed back his statement to allow the D.C. mayor and the police chief to talk about what they said was an active manhunt," Henry began. "Why then did the president go ahead with what became a series of attacks on Republicans about the health care law, about, you know, the debt-ceiling fight, et cetera?
"Tonally, did it not seem a little bit off in the middle of this manhunt, people being informed about lives lost to move forward with an attack on the other side?" Henry opined.
RELATED: Obama Rips GOP During Financial Collapse Anniversary Speech: 'Are They Really Willing To Hurt People?'
"I think that's an important thing for the president to talk about," Carney replied after noting that Obama was addressing the circumstances leading up to and following the financial crisis of 2008. "It's an important thing for Congress to talk about and act on. And it's entirely appropriate, today, for the president to talk about that."
We face, as the president noted, some looming deadlines. Congress needs to act. It has some very clear top-line responsibilities. Fund the government, pass bills that pay for the activities of the United States government. They insisted on a process whereby budgets were passed in the Senate and the House and now Republicans have blocked the process of reconciliation. They insisted on a process where the president would put forward his proposals that included compromise on things like entitlements. The president has done that. We've yet to see a counter-offer many, many, many months later.
"So, time is short," Carney concluded. "We need to address these challenges."
Watch the clip below via C-SPAN:
[h/t Real Clear Politics]
[Photo via screen grab]
— —
> >Follow Noah Rothman (@NoahCRothman) on Twitter
Have a tip we should know? tips@mediaite.com