Jeb Bush Praises Brother George W. For 'Not Having An Opinion On Anything' Over Last 4 Years On CNN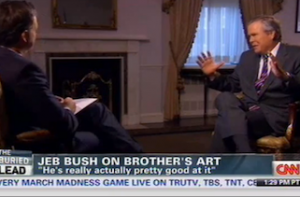 In an excerpt from his recent interview with Jeb Bush shown on CNN's The Lead Friday, Jake Tapper asked the former Florida governor about his brother's recently discovered painting hobby. The answer he received revealed more about Jeb's view of George W. Bush than he ever could have expected.
"He is like the most focused, disciplined guy," Jeb Bush said about his brother. "To imagine being a former president and not having an opinion on anything over the last four years, really?" he said in seeming disbelief.
From there, Jeb Bush demonstrated the difference between he and George W. Bush by indicating that he would not have been able to stay so silent during President Obama's first term. "I mean, to have that discipline," he continued, "to be respectful of the president that hasn't been as respectful of him as he should have been? Man, I could have never done that."
Finally, bringing his answer back around to Tapper's relatively tame question, Jeb Bush said, "Everything he sets his mind to he does — he wants to be good at. And he's actually become a pretty good painter."
The prolific painting does help explain what George W. Bush has been up since leaving office. Unlike other former presidents and lawmakers, he has kept remarkably silent and secluded. Does he really have no opinions on political and policy matters as his brother suggests? Or has he just decided to keep them to himself?
Watch video below, via CNN:
—
>> Follow Matt Wilstein (@TheMattWilstein) on Twitter
Have a tip we should know? tips@mediaite.com