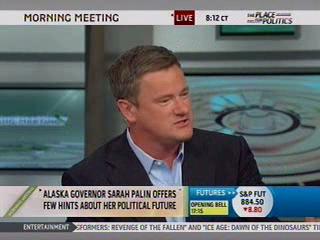 Wouldn't it be ironic if Gov. Sarah Palin swoops in to take the job of one of her biggest defenders in the media?
It's an idea floated today by Joe Scarborough on MSNBC. The theory: Palin moves in to Fox News as the host of a 10pmET show, replacing Greta Van Susteren.
He touched on the idea at the tail-end of Morning Joe, and expanded on it after some prodding while a guest on Morning Meeting with Dylan Ratigan:
I do know this though: Roger Ailes is a smart guy. Roger Ailes understands that the conservative base loves her, and middle America loves her…Listen, I just read that they haven't re-signed Greta. I know nothing, but you can connect some dots here. Let me ask you this: would Roger Ailes like her on at 10 o'clock at night?
While it's clear Scarborough is speculating, it's an interesting possibility. Obviously, a Palin-fronted show, especially one on Fox News, would be a huge draw. And for Palin, the 10pmET hour currently has a built-in audience of millions. One problem, of course, is Van Susteren is doing just fine. For someone who has conducted several high profile interviews with Sarah Palin (and Todd, and Bristol), and been a vocal defender, it would be a cruel twist of fate. And it's not like Van Susteren's contract is up any time soon – she's signed into 2010.
An FNC spokesperson tells Mediaite that Fox News has not had any discussions with Palin.
To which we say: yet…
—–
• Follow Steve Krakauer on Twitter
Have a tip we should know? [email protected]