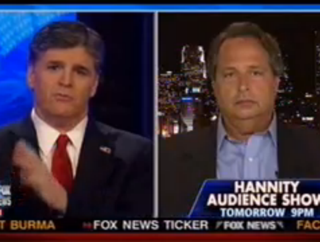 Comedian Jon Lovitz has somehow become a Fox News media darling after a comedy rant against President Obama over tax policy, and he made his way Thursday night to Hannity after appearances with Megyn Kelly and Bill O'Reilly earlier this week. Hannity thanked him for his "refreshing" honesty, asking whether he has felt a backlash and, of course, giving him a hard time for voting for President Obama the first time around. Lovitz wouldn't say whether he has decided to, but he wasn't particularly happy with the President's language as of late.

RELATED: Jon Lovitz To Megyn Kelly: People Have Called Me A 'Nazi' For Anti-Obama Rant
"I enjoyed it because it was so refreshing," Hannity told Lovitz of his rant, explaining that he didn't understand the outrage since he was a comedian just like Bill Maher. "Thank you for being about the only person that gets it– I'm a comedian in my own comedy club," Lovitz noted, explaining that he didn't believe the outrage was about him as a person saying it, but because "what I said struck a nerve because it's true." He explained "there has been no backlash" but, instead, book offers and television deals.
Hannity took a jab at Lovitz for being a Democrat, of course, but good-naturedly. "Here's where you screwed up– can I tell you? We have an honest relationship, I've known you for four minutes," he joked. Lovitz said he did not regret voting for the President, and "I would never tell anybody who to vote for." But he noted he was concerned that "a victim mentality is what he's selling, and one with a victim mentality will get anywhere."
The interview did not end without Lovitz getting Hannity back for joking about him "screwing up," though: "someone told me to ask you whether you were born in Kenya." Hannity's staffers laughed pretty heartily; Hannity himself took a bit to get the joke.
The segment via Fox News below:

Have a tip we should know? tips@mediaite.com